/ P.O. Box 460141 / San Francisco, CA 94146-0141 / telephone: (415) 821-2090 / FAX (415) 282-2369 / http://www.perefound.org / e-mail: peregrin@sirius.com
KIT Staff U.S.: Ramón Sender, Charles Lamar, Christina Bernard, Vince Lagano, Dave Ostrom, Brother Witless (in an advisory capacity)
EuroKIT: Joy Johnson MacDonald, Carol Beels Beck, Elizabeth Bohlken-Zumpe, Ben Cavanna, Joan Pavitt Cavanna
Correction: In Nadine Pleil p. 10 in the Nov KIT, it was August and German Pleil's grandparents, not great-grandparents, who were founding members of the Nueva Germania Community in Paraguay.
Correction: The photo of Balz and Monica Trumpi in the November KIT was from their 50th Anniversary, but they just celebrated their 60th, as reported.
Margot Purcell, 11/26/98: Dear Friends, 1998 is almost over and we are coming to the end of a year in which I had hoped we would have made some positive progress in our relationship with the Bruderhof. The elder, Johann Christoph Arnold, has written several books that by their titles sounded hopeful. Upon reading them I am no clearer in understanding his intent or goal. I personally do not feel that our relationship is improving. The Bruder-hof does not seem to realize they are losing out on knowing so many wonderful people.
My family remain enclosed on the hof, inaccessible to me or my siblings. They believe Blair and I are spreading lies, but I have not been told what they are. I consider myself lucky to have brothers and sisters who are not on the hofs. I also am blessed with a wonderful husband and daughter (and two cute cats). We work hard at our frame shop and art gallery which has supported us these last 18 years.
I am most appreciative of all the friends I have, who like me spent time on the Bruderhof. I treasure the contact and support from so many of you. What a great joy it is for me to have renewed friendships and made many new ones.
As we celebrate the holidays we think of all of you have come into our lives over the last 10 years. I thank each of you for your personal touch in my life, I appreciate each one of you for your individuality. For many the holidays may be difficult as we remember the Advent and Christmas time of our childhood on the community. I wish each one a very peaceful holiday. May the new year bring us understanding and reconciliation with our families on the hofs. May the Christmas message open their hearts to all their children and former members.
Renatus Kluver, 11/14/98: A few hours ago I had a phone call from Gerdi Holland. She told me that Buddug had passed away today. She was nearly 94 years old, missing her birthday by only a few days.
I have always liked Buddug and would go and visit her and also Gwynn over the years we were away from the SoB. After Gwynn died I kept up the contact. She was looked after by the Darvell commune for a short time, thinking that she would be there for the rest of her natural life, being at the time already well into her eighties. The SoB claimed that she would not fit into the life and that she was too self-willed. I personally was surprised that she agreed to go there since she had promised Gwynn that she would never join after what they did to both of them.
When she was taken into an old people's home in Bexhill, East Sussex, she became very confused and wondered why they had shoved her out. Her immediate memory, active memory, suffered severely from this shock and when talking to her five minutes later she had forgotten what one had told her. But her distant memory was still very good and she would recall people and events in Wheathill or Primavera Bruderhof, with clarity and minute detail. Visiting with her was not easy, since towards the end her hearing had almost gone and she did not like wearing a hearing aide.
What she liked best, in the summer when it was nice and warm, was to ask to be taken to the beach, which was only ten minutes in the car. And if you then bought her an ice cream she would beam all over her face and say: 'Oh, Renatus, this simply is too kind', and we'd enjoy watching the waves come in and break over the pebbles and sand, sitting on one of the beach benches, licking our ice cream. The fun part was getting back to the home, since going down to the sea one had clear signs of how to get there and one merely needed to follow them.
But getting back posed a little problem, since neither Buddug nor myself knew the way back through the one-way street system and it became an adventure for the both of us. When we finally did make it back to the home she would insist that we have 'a nice cup of tea', which she would make in her room, and later when she no longer could, one of the staff would do this for us and we would enjoy it together.
So here goes another link to the distant past. I would be glad if anybody has any memories from Primavera or Wheathill of her, since she worked in the kindergarten and, in my view, was an excellent teacher who was always fair and simply loved children. She and Gwynn did not have children of their own, but she assured me that all the Bruderhof children, up to the closure of the Bruderhof in the early sixties, were really hers, because she had so much to do with so many. She would remember names and birthdays, even proudly showing me her birthday book with all the dates in it. For now this is all. Greetings,
Joy Johnson MacDonald, 11/14/98: Dear KITfolk, Buddug Evans died early this morning at the nursing home where she had been living for the past few years. I last visited her with my sister Rosie and Norah Allain in July when we had a very nice drive and walk and ice cream on the sea front at Bexhill on Sea. She had become hard of hearing and did not like wearing her hearing aid but was in good spirits, enjoying reminiscing about Brothers and Sisters with Norah and naming many of "her children" from kindergarten groups in Wheathill and Paraguay. Buddug was regularly visited by her 2 nieces, ex-bruderhofers and people from Darvell, and also kept in touch with Gertie Holland and Belinda who telephoned her every week.
I hope there will be some memories and anecdotes of both Gwynn and Buddug in future KIT issues, as they were well known to many people, having lived on many hofs during their time in the Bruderhof and also by keeping close contact with the many others who were told to leave the European communities in the early 1960's. Buddug would have celebrated her 95th birthday next month. She and Gwynn will be much in our thoughts right now. Love, How Buddug came to live at Darvell
Some years ago, Buddug fell, breaking her wrist and suffering severe bruising. She contacted my sister Elizabeth who went to the hospital and then brought her home because she obviously couldn't manage on her own during the early stage of healing. At that time we were visiting our mother at Darvell on a regular basis and they invited Buddug to convalesce with them. She was in her late 80's when bones take rather a long time to mend but within a few weeks she was ready to return home.
On her last day when she was descending a couple of steps to say good-bye to my mother, she slipped and fractured her hip. This time the injury and associated shock took a much greater toll. I visited her in hospital several times and she had aged a decade but gradually, gradually she became mobile again. At this point Darvell offered her a permanent home promising that there would be no pressure on Buddug to become a member and she made it very clear that she and Gwynn had decided not to re-join and that she had no intention of changing her mind. A number of us were concerned that the Bruderhof would want Buddug to conform to their ways by wearing the uniform and joining their meetings etc. and that if she did not "fit in" they would send her away. We voiced these anxieties and were re-assured that Buddug would be able to spend the rest of her life at Darvell and could remain as independent as she chose.
She consulted her nieces and several others, including Belinda who at that time was a frequent weekend visitor to Darvell, as were Gertie and Leslie Holland, and also Kilian and Lorna Zumpe and it was they who spent several days with Buddug, packing up her apartment. She insisted on throwing out lots of papers but some were packed into trunks for niece Sally and her husband who were taking care of her financial affairs. Some of her furniture went to Darvell where Buddug had a two-room apartment. She was keen to pay as she felt it gave her a degree of independence. She had her own radio and telephone and in the early years (when Darvell were more welcoming to outsiders) we visited at her convenience although we also always stopped to visit with "special" friends such as Johnny Robinson, Alice Humphreys and our own relatives. She would also spend time with people outside the Bruderhof and although she said she didn't want a TV at Darvell, it amused us how much she enjoyed watching television when she came to stay with us.
She came to our mother, Eleanor's, funeral as did many Darvell people as she was buried next to our father, Guy, at Bullstrode. Buddug's gradual decline coincided with a very definite cooling off of relations with the Bruderhof and I, as sender out of KITs to Europe, was persona-non-grata but still just able to visit Buddug. When she became less able to care for herself she was moved to a room next to Jerry and Jane Marchant's family but no longer had her telephone. The move, plus diminished contact with outsiders, was not an easy or happy time for Buddug but she did enjoy her 90th birthday celebrations.
When the Bruderhof decided to have Buddug go into a nursing home, they contacted Sally who made her dismay known as did many of us, but to no avail. When I visited Buddug a week or so later I was shocked at her deterioration, in fact so angry I dropped in at Darvell unannounced and told my uncle and aunt, just how disgusted I felt. The Servant arrived and I reminded them that they'd promised never to go back on their offer of a permanent home without any pressure on her to become a member. Gradually Buddug's health actually improved a bit, she had her own telephone lifeline and regular visits again. Her short-term memory and deafness deteriorated but her recall and lively interest in talking about her old Paraguay and Wheathill friends and memories gave her great pleasure right to the end of her life. A grand and independent-spirited old lady who was dearly loved by many, many people.
click here to return to Table of Contents

Buddug Evans - approx 1988.
Buddug's Funeral
On Friday 27th November a group of Buddug's relatives and friends met together at Eastbourne Crematorium to give thanks for her long life and to honour our dear Buddug by sharing many memories and anecdotes. This funeral/remembrance service had no religious minister to conduct it. We started by singing one of Buddug's favourite songs, "All Things Bright and Beautiful," then many people spoke about different aspects of her life, right up to her last evening when she requested the nurse to place her walking stick on her bed before saying her final "nos da", which is Welsh for "good night." One of her nieces read Buddug's special evening prayer which translates as: "Thanks be to God for house and hearth, and a nice clean bed to sleep in, instead of being on yonder mountain, shivering with cold in the wind and rain." We had a few moments silent contemplation and then ended with the lovely Welsh hymn "All through the Night." After the funeral we met at a hotel next to Pevensey Castle where we continued sharing our memories and love for both Buddug and Gwynn for another three hours before gradually moving on. Buddug enriched our lives and I shall always be grateful for having this day with her family and friends.
Nadine Moonje Pleil, 11/20/98: When Buddug Evans fractured her arm and was in need of help, the Darvell Bruderhof offered to take her in until she died. Buddug paid to live there and had her own phone line, but the Servants did not like that. Also she had KIT people visit her, and again the servants did not like that and said that Buddug was soooo demanding and difficult to take care of and to deal with. So Jerry Marchant got fed up and dumped her in a nursing home. From then on Buddug became more and more confused and did not understand why she had been dumped. Well, I would call that "granny dumping".
1/29/98: When I think of Buddug, I naturally think of Gwynn. Gwynn was my English teacher in Isla Margarita. He soon found out that I was bored stiff in English class because I did not need to learn English because it was my mother tongue. So Gwynn allowed me to read during English class. He introduced me to the English classics including Charles Dickens, Jane Austin, etc. I also read Lorna Doone, which made a great impression on me.
Buddug helped Gwynn with these English lessons and also taught us some Welsh love songs that we sang for a wedding. Both Gwynn and Buddug were very kind to me and always had a big heart where I was concerned. They had no children of their own, and therefore especially befriended who had no parents on the Bruderhof. I loved to go and have tea with them. They would tell me about their pre-Bruderhof life and, while doing so, got the very shy and reticent Nadine to share about her pre-Bruderhof life. I was very close to Gwynn and Buddug, and I owe them a lot Their house was always open to me. They would always listen quietly to what I had to share. They helped me out many a time. I was a very tempestuous teenage girl and flew into a rage rather quickly.
Gwynn always had a twinkle in his eye and always saw the humorous side of things. Sometimes he had to win Buddug over to see the funny side of things. Gwynn and Buddug were treated very badly by the Bruderhof, and I was very sorry that Buddug had to accept the suggestion Darvell made to take her back in order to care for her until the end of her life. Poor Buddug believed the and accepted their help. However this promise of having her in Darvell until her life ended was a sham. The Bruderhof reneged on their promise. Buddug did not deserve that kind of treatment.
Gwynn and Buddug will always be remembered by me as very loving and caring people I feel very honored that I was so privileged to know Gwynn and Buddug Evans. They both gave me a lot and I am thankful that they belonged to my childhood, my teen years and my adulthood. They were an important time of my life.
Ben Cavanna, 11/22/98: There was a rather nice short period of time when we could visit Buddug in her apartment at Darvell almost at will. She always enjoyed visits even when she was becoming confused with short term memory.
I guess it all became too much for the B'hof to continue their commitment with regard to her. But then do they not have a pattern of not keeping to commitments they have undertaken?
Beware anyone who is offered gifts by these "Greeks." Love,
Bette Bohlken-Zumpe, 11/24/98: Many of us who grew up in Primavera will remember Gwynn and Buddug as especially loving people. I remember that they were on the same ship that took us over the ocean in 1940. Gwynn took care of the schoolchildren during the day outside on deck, and Buddug helped with the little children, especially the two babies, Johann Christoph and Ian Cocksedge. I am sure many will write their memories of those days.
I myself got to know Gwynn and Buddug even better after we were out of the Bruderhof. Many times I visited them in their home in London and enjoyed their firm determination to hold on to the good we all experienced together and the protection in those difficult pioneering years in early Prima-vera. But both of them were absolutely convinced that the Bruderhof was no longer what it had been -- a community of faithful, loving brothers and sisters -- and that through Heini and his new converts, a very different spirit had taken hold of the life to which we had all dedicated ourselves. For them there most certainly was no return or going back, only a life ahead and forward. For Buddug, the loss of Gwynn was a hard one, and she found it very difficult to live alone, especially as they had no children. Little by little she found her feet and was very active in all the contacts with her former preschool and schoolchildren. We were among the many, many people with whom she kept up a warm relationship, and this for many years. As she became more frail, she lost her physical balance more and more, and fell several times badly. This resulted in a broken arm, broken shoulder, broken nose and many painful bruises. Finally she accepted an offer from the Darvell Bruderhof to let her live there.
She enjoyed this, as again she saw many children around her and many members that she had known from early Wheathill days. But sadly she went more and more deaf and sometimes was a little disoriented. The girls that looked after her were good and loving, but nevertheless it was felt that she could no longer stay on the Bruderhof and she was brought to a nursing home. This is something that she never understood, and it went far beyond her capacity to understand. She would telephone people several times a day and ask, "Where am I? I can't find anything! Why am I here?" But the nursing home personnel were good to her and, in the end, I think she accepted the inevitable. To be thrown out again at the age of 90!
I am sure she will live on in our minds and hearts as a wonderful, loving and determined person with a lot of understanding for the people around her and those far away, from our life together in the back woods of Paraguay.
Many people were sent away at an old age or because they were felt to be a burden to the life in Community, like Maggie Watkins, Maria Eckroyd, Mary Brinkhorst and also Sarah Kaiser and many others. Now I have heard that again members of the Bruderhof have started visiting old and aged ex-members, especially those who have inherited some money. They call these members up and invite them to return to the fold, and take them out for a nice dinner. When the ex-member in question tells them that there just is no return, then they come up with "When you were baptized, you promised that all you have and will receive in the future you will give to the "Gemeinde." Many of these ex-members had a very difficult start in the "big world" after twenty years in Paraguay, with many children, no money, no work and a lost illusion and faith! The 1960s were hard for many a loyal Community member who was just kicked out for no other reason that than the brothers in charge felt that "They were not in the right spirit!" This vague accusation was painful and hurtful, and many of us turned around ourselves in big and small circles trying to understand and find the wrong within us. We had to manage without money and without any securities, and this was especially hard on the older ones!
Therefore I find it ridiculous that these people now are visited at an old age and again the Bruder-hof tries to get hold of the financial security that an old person who has finally achieved, after years of pain and struggle. The Bruderhof does not even stop at letting aged relatives on the Bruderhof telephone their aged brothers or sisters, with whom they have not been allowed contact for all these years, to call them to keep to their vows. This is so emotionally difficult that these people come into a great inner conflict about what to do!
If now we remember how Buddug was sent away at the age of 90 years or more, then I find this quite disgusting! Therefore I would like to say to all these older people, "Don't let them get you with sweet words! The words sound so nice and positive, like "Everything is new and everything is changed! Come and see for yourself!" We know by the sarcastic letters from the Bruderhof Elder Johann Christoph Arnold that this is not true. On the contrary, things are worse than ever, because the people live in constant fear!
Much love and a Happy Christmas to all of you, and a good and healthy 1999,
click here to return to Table of Contents
Belinda's 90th Birthday Party
by Joy Johnson MacDonald
On Saturday afternoon 28th November 16 of Belinda's KIT friends gave her a surprise 90th Birthday party. She was overwhelmed and overjoyed as we sang many birthday songs, lit candles, cut her birthday cake and toasted her with champagne. She was especially thrilled that some of "her" generation had managed to make the long journey to be with her. Belinda regaled us with family history going back to her early years, as well as anecdotes and adventures right up to the present time including the many other events which have been planned in celebration of Belinda's 90th birthday on the 10th of December. Our love and best wishes for a happy and fun-filled year ahead!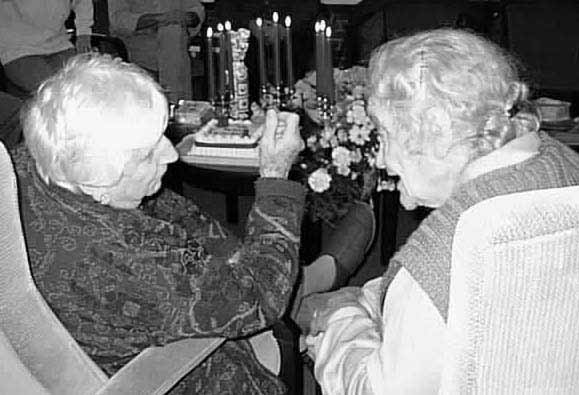 Belinda giving her younger friend Gerti Holland a few tips on how to blow out 90 candles successfully.
Renatus Kluver, 11/28/98: Yesterday I drove to Eastbourne, where Buddug was cremated and we had a little 'remembering' of her as well as Gwynn. I unfortunately missed the first part of the proceedings, but afterwards I was present at the buffet get-together, where we had a nice quiet time together remembering the Evans. From here I drove some other 90 miles, to Tankerton, which is near Canterbury, where Bruce Sumner lives and I stayed the night with him. We had a very good conversation.
Today we drove to Canterbury, which is only twenty minutes from Bruce by car, and here we gathered in the old people's home in which Belinda Manley now has a flat. It was an surprise party that Stephen Marchant had organised. The amazing thing was that Belinda did not guess what was happening and when the various participants arrived, her mouth literally did not close: "What are all of you people doing here?" she wanted to know. Stephen then said. "Is it not getting a little crowded in your room? How about going downstairs for a cupa, and where there is more room to sit in the lounge." Belinda's concern was to find twenty pence, which it cost for a cupa.
When Stephen told her that a buffet had been arranged, Belinda could not believe it. I asked Stephen why he did not spring that surprise on Belinda downstairs and he answered that it was to get Belinda moving. Otherwise she would not go. So those present all had a good laugh.
Those finally present were: Gerti and Leslie Holland, Gottfried and Janet Holland, Joy, Susan, Elizabeth and Rosie Johnson (I've omitted their marriage names), Helen Vowles and one of her sons-in-law who brought her by car, Stephen and Anne Marchant who organised the party, Irmi Keiderling and her husband, Bruce Sumner and myself. I have probably forgotten someone and will, no doubt, be corrected in due course. Anne had prepared a lovely buffet spread, which we all enjoyed, after singing a lot of birthday songs for Belinda. Belinda then started to tell us a few stories from her childhood and also why she is supporting certain charities. It also turned out, that she was born and lived her first few years of her life in the vicarage, which now is part of this old peoples home, her father being the pastor at the time. She said that it was 'full circle' of her life, now spending her last years of grace where her pilgrimage of this earth began.
Leslie, as ever, was busying with his sketch pad, trying to hold the fleeting moments of our get-to-gether by trying to get the outlines of some of us committed to paper. No doubt he will come up with one of his magnificent birthday cards, for which he is famous and no doubt this one will be a special, special one. After all, 'One does not reach the ripe old age of ninety years every day.' We had been given the main lounge to have our party in and had it all to ourselves. Quite, quite lovely. It was a quiet kind of celebration, but with an absolutely superb atmosphere. When we then all went our ways, after two-and-a-half-hours, we warmly shook each others hands, or gave one another a huge hug.

Leslie Holland, 91, presents Belinda with her "I am 90" badge.
Belinda had gone on a fishing expedition the evening before, trying, surreptitiously, to find out if there would be anything happening the next day, because she had an inkling that something might be happening, but was not quite sure what it might be. She phoned up several people, amongst others also Bruce, and Bruce tried to pretend not to know who had been to Buddug's funeral and did not let on that I was staying with him over night. Gerti, Leslie, Gottfried and Janet Holland as well as the four Johnson girls, stayed in a hotel in Eastbourne and then drove on Saturday to Canterbury for the birthday party. Even though Belinda had an inkling that there might be something in the offing, she nevertheless did not think that so many would turn up for her birthday and she really appreciated this ever so much.
Afterwards I took Bruce back to Tankerton and then drove home, about 90 miles away, where I was met by a German student, who had flown in from Berlin and had to let herself into the house and get sorted out without my being there. But she managed well and was able to make sense of all the little notes of instruction which I had left all over the house for her to find things which she might need. We then cooked something, that is, I cooked something, ate it and afterwards we had a good chin-wag and now she has gone to bed and I'm typing this report. Greetings to you all and behave yourselves. 'Der Apfel faellt nicht weit vom Baum' (denoting that the character or behavioural problems, or otherwise, of a parent are visited onto their children). Greetings,
click here to return to Table of Contents
Wayne Chesley, 11/21/98: I received a call last night and heard that Franzi Whitty had passed away just a few days ago in the Bruderhof.
Jere Bruner, 11/23/98: I remember both Franzi Raphael Whitty and her husband Dick wit/h great fondness. Dick used to tell me what he had learned about the survival of culture -- and, he was convinced, primitive Christian Gemeinschaft among the Irish. One Bonifatius (Dick called him 'Malefizius') was despatched by the Pope to bring the Irish into line, and largely succeeded. Some of the Irish lived in "double monasteries" according to the official report. Dick laughed at that, and said -- they had a community of families, just like us. I vividly remember Dick's role in a play that Hardi wrote, put on shortly after I arrived, and his magnificent rolling "rrr" as he protested at how the "worrrrkers" were treated by the movements that had betrayed them. He told me that before he discovered the Bruderhof he had set out to arrive at the bottom of the social order and had become a street sweeper.
Nadine Moonje Pleil, 11/2/98: Franzi Whitty came from Austria and her German was absolutely 100%. She also used to say, "Geh, kommal her." Which translates as "Go, come here!" She and I had an ongoing joke about that. She would say that to me so I would start to walk away and then she would call out, "Nadine, you know perfectly well what I mean, your German is as good as mine!" Franzi was a Dr. of Philosophy. She was known in Vienna as Dr. Franzi Raphael. You would never have known that Franzi had a Ph.D. She was so bescheide, modest about her achievements. Again she and I had a little joke, I often called her Dr. Franzi Raphael. She once told me that only I was allowed to call her that as she knew I was only joking. Franzi with all her intellect was a very humble person.
She and I had a very good and ongoing friendship, even though friendship among the Plain People was not gebilligt, was frowned upon. Only the Servants were allowed to have a friendship. Franzi had a very warm heart. She loved Dora Pleil, my dear mother-in-law. They both got on like a house on fire. Franzi for all her intellect had a great understanding for other people who were not on the same intellectual level as she was. And with that I am not saying that other people were stupid. It just goes to show what a loving heart Franzi had. She and Dick were married 7 years when they finally found out that they would have a child. Franzi had already given up all hope that she would ever have a child. It is so good to know that after Maeve she was given two more children.
As you can tell, Franzi was very dear to me and also to Juanita Pleil. She used to go on long walks with Juanita and then they would go back to Franzi and Dick's apartment and have a cup of tea. Dick Whitty was from Scotland, and was studying to become a Catholic priest when he heard about the Bruderhof and visited Wheathill. He was so impressed with the fact that the Bruderhof did not believe in bearing arms that he joined. He met and married Dr. Franzi Raphael in Wheathill .
Franzi was an Austrian Jew and had to get out of Austria in a great hurry as Hitler was threatening to take over. She was a refugee. She did not have and easy time in England. She went from being a Ph.D.. to milking cows on a farm in order to survive. Dick and Franzi came from Wheathill with Mary Cawsey and Belinda Manley to Primavera in 1946. Franzi mostly worked in the school and Dick with the horses. Dick was a very gifted and intellectual man. I understand from his daughter Helena that he started to write a book about Celtic History and I think that Helena is interested in finishing this book for her father.
Dick and Franzi were very dear people and very close to my heart. I will never forget them and always will think of them with fond memories.
12/1/98: When I worked in the office at NMR, Franzi received an invitation to go to Vienna, Austria. Three of her friends had chipped in together to pay her fare. The servants told Franzi that she could go, as the Bruderhof was not paying and her friends were footing the bill. Franzi labored under the impression that she had to be so modest and say that she really did not want to go and really was generally hesitant to accept this very generous offer from her friends.
One day when I was in the office and getting Franzi's passport and birth certificate out of the documents file to give them to her, the door opened and in walked Dr. Franzi Rafael (German spelling). Franzi said to me that she really was not so sure about going to Vienna. I said, "Dr. Franzi Rafael, you have to go! When will you ever have a chance to go and see your friends again if you do not take the bull by its horns and just go?" Franzi looked at me and said, "Ach Nadine, I do not know." I answered, "Dr. Franzi Rafael, you go and have a wonderful time and enjoy yourself." Franzi looked at me.
You really like to call me Doctor, don't you." she said.
"Yes I do," I replied. "That is your title and sometimes it needs to be used."
Franzi smiled and then reciprocated, "Well, yes, you are right, you are really right. I should go and see my friends."
I was so glad that she had finally made up her mind. I gave her her passport and birth certificate and said, "Doctor Franzi Rafael, you go in Peace and God be with you." Franzi was already at the door and she turned around and gave me a brilliant smile and said, "Nadine, Gruess Dich Gott. That is the way people greet each other in Austria. It is how we say good morning to each other."
Franzi had a wonderful time, and one important thing: she was able to distance herself from the problems, hurt and stress that she was experiencing. I was so happy for her. My dear friend Frau Doctor Franzi Rafael Whitty, I salute you.
click here to return to Table of Contents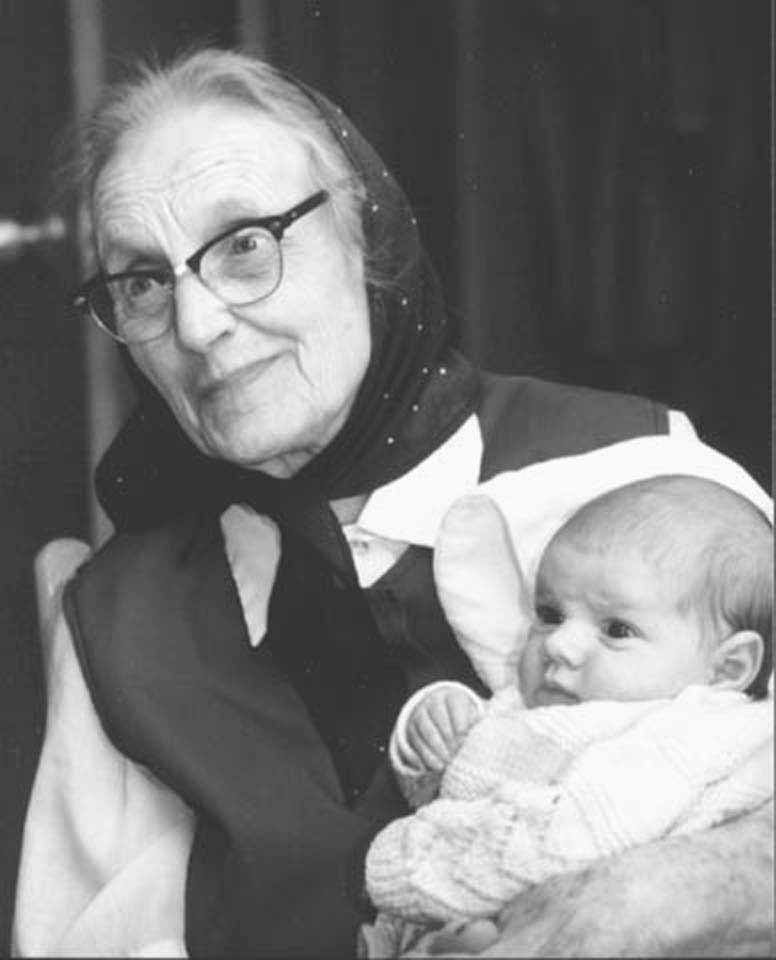 Franzi Whitty with her namesake, Franzi Chesley.
Johanna (Patrick) Homann, 11/24/98: I am greatly saddened by the continued abuse and pain that the B'hof inflicts on members, former members and their families, in the name of Christianity. I wonder how aware the regular members are of all of their evil ways, or are they just too brainwashed to recognize it as evil? I am so grateful for the network of friends that we have outside and I hope that we can continue to counter their behavior by actually living what we were taught as children.
I was never close to Dick and Franzi, but we moved into a house that they had bought in Chelten-ham, Glos., that the B'hof got when they rejoined in the 60s. The B'hof made it sound like they were generously helping us by letting us stay there (after they had sent my mother away, in poor health and with 5 kids), but they made my mother's life hell by constantly telling her to ask the government (welfare) for more money, as they kept raising her rent. The house was also in bad disrepair and I have correspondence that my mother saved where she is constantly pleading with the B'hof for repair money and not to raise the rent, as the government was not willing to increase her allowance. She has B'hof letters rebuking her for her "wrong attitude or spirit." I wonder if I should put those into print sometime?
I was too young to understand what she was going through then, but I still hurt for what they put her through after breaking up her family, taking her health and all of her inheritance, and then kicking her out penniless when she finally stood up for her sons who had been taken away from our family when my father left. The B'hof hasn't changed much since then, which is evidenced by their treatment of Buddug and other elderly people, and all the additional pain they have caused to many of those outside at the time of death of their loved ones. My heart goes out to all of you. Well, I will close now and on a lighter note I want to wish you all a Happy Christmas. May we all appreciate the loved ones far and wide and be thankful for the times when we can be together. Love,
Linda Lord Jackson, 11/23/98: I never really knew Dick and Franzi well, but always felt they were greatly undervalued. Franzi was always warm and kind, and I never remember her ever shouting at the children. Dick seemed to me to be a very quiet man, but he did sometimes talk to the older children, and seemed to know such a lot about the world and the universe, things we didn't seem to learn about.
Mike LeBlanc, 11/22/98: I always felt a special closeness to Dick and Franzi. I remember Dick's quiet way at shop snacks. I think he was one of the brothers responsible for setup and cleanup. He did so in a quiet spirit of love. I also remember having snack with Dick and Franzi, and Franzi showing the same quiet love that Dick displayed. It was the "common folk" that displayed the true spirit of Christian love. At some point, however, they must reach a "crisis of conscience," and choose "unity of the brothers" or their conscience. Many choose the former. *Sigh*.
I did not know that Franzi had a Ph.D. -- thanks for sharing that, Nadine. Often I think people's gifts were underutilized in the name of "unity" or gemeinde. I have fond memories of many "plain folks." To me, the plain folk would reach out to someone that they saw needed it. As a "second class citizen," always treated as an "outsider," I appreciated that. August was one that did that in his own quiet way in the shoe shop. Roland Keiderling also show me a degree of that love. I will treasure those moments where true love was shown in the community, most often from the plain folk.
I await the time "my people" will be free. I'll pray for that day!
Wayne Chesley, 11/23/98: Thank you all for the recollections about Franzi (and Dick). We never even knew her maiden name, nor that she had a Ph.D. We grew very close to Dick and Franzi in our year at Deerspring. We had no family there, nor did they. There was another couple like us from "the outside" (Tye and Kimberly Hickman) who had several children. And like their children, Dick and Franzi were as grandparents to our Stevie. We had tea often with them, and we enjoyed walks with them on many a Sunday afternoon. Sometimes when Dick was not feeling well enough to walk, we would go for a walk with Franzi.
If I had stayed at Deerspring long enough I would speak German quite well by now -- at least if Franzi had kept up with me. There were times when she wouldn't speak a word of English to me! Oh, eventually she'd get her message across, we were both so amused by it.
We named our own Franzi for her. I think it thrilled Dick and her both. And it makes me very, very sad now to know that she could not have ever expressed any friendliness to us, if she desired to do so, after we declared that we wanted to be released from our novice vows. Nor could we have had any contact with her. Our last note to her, with a picture of our Franzi, was returned unopened (well, the side was slit open, which makes us suspect that she peeked -- shame on her!).
Keep the Franzi stories coming, we love to hear more about this dear woman whom we considered, in spite of the prohibition of such in the Bruderhof, our friend.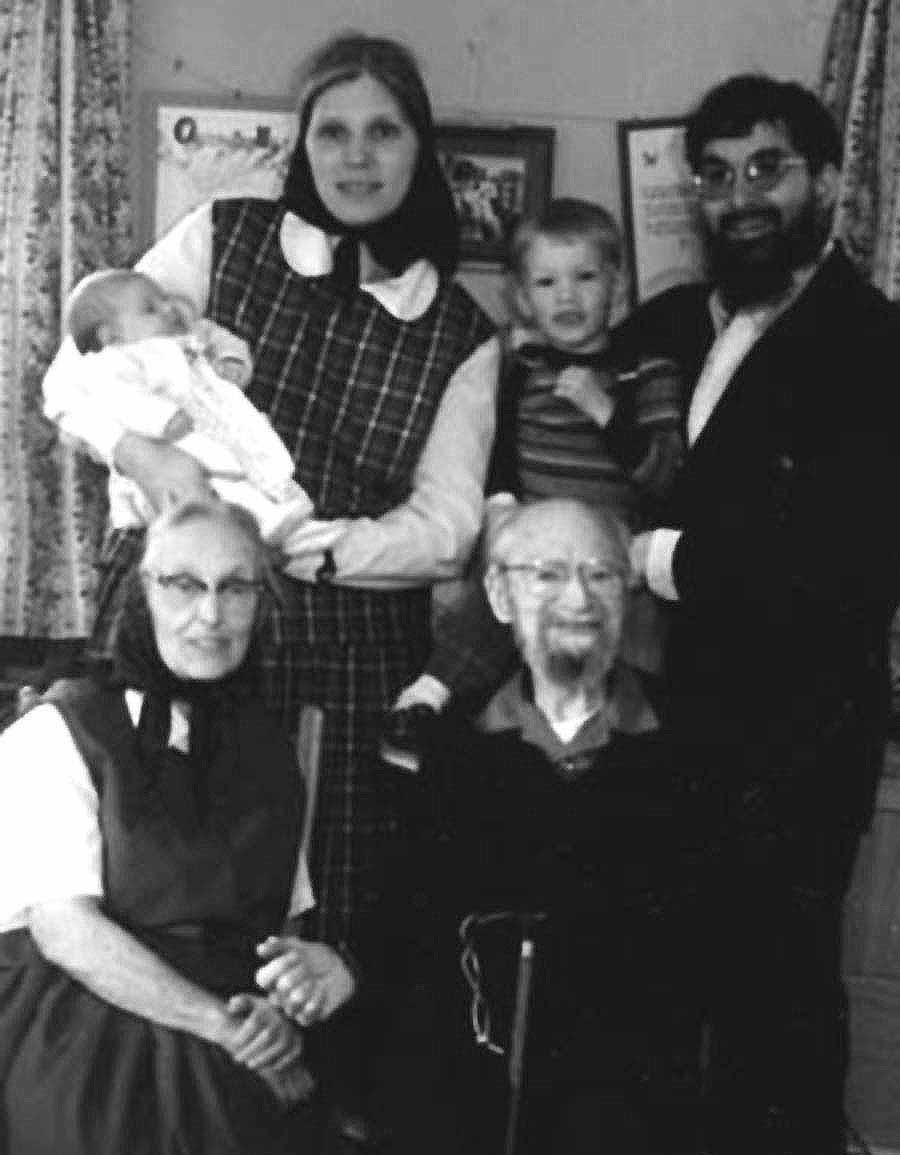 Franzi Whitty, Franzi Chesley held by her mom Betty, Dick Whitty, Stevie held by his dad Wayne Chesley.
Lee Kleiss, 12/3/98: In the early 60's, Dick and Franzi were stranded in England, homeless. A kind family invited them to live in their own living room. England had a severe housing shortage that was still very evident even a decade later. I laughed when I heard that Dick had raided the Primavera Library before leaving. What impractical people! But then, when I visited them in 1962, I knew he had been right. All three children had their noses in books. How little we understand the needs of others when we try to supply them with the minimum necessities. Books were a necessity to this family.
Dick had found a job as conductor of the bus or streetcar system in Cheltenham where the family had found refuge. I can visualize him still, hanging on to the strap in the lurching, jerking bus while trying to make change and hand out tickets.
In general I was very much impressed by the generosity of the English who had experienced so much war damage and deprivation. Even in 1972/3 when I was in Leicester for a year's sabbatical, I was impressed by a certain simplicity. Our shoe-repairer never suffered from the temporary electric cut-offs because of the coal miners' strikes. He still used gas light and energy! When we participated in a number of Folk & Dance Society festivals, I was impressed how they could rent a field and needed only a single cold water tap (or hose) to satisfy a hundred people for the weekend. Americans would have required hot and cold water, showers, flush toilets, etc. etc.
The English understanding and generosity was completely lacking in Germany. The government supplied! It seemed there were almost permanent "Lagers" (refugee barracks) that were occupied by a continuous stream of refugees. There were no rummage sales where refugees could acquire cheap clothing, furniture, etc. That's where the Friede-manns first found housing, or picture the first housing of Herman & Ruthli and their boys. In my memory it was almost cave-like and cold. The oldest was so proud because he had just been given a pair of shoes.
That reminds me, I have often wondered if anyone knows anything of Ruth and Charles Hall and their four children. He had found a job in a foundry casting parts for machines -- his former skill. Because of medical treatments, Ruth's memory was pretty wiped out. He was tremendous in raising this family. Their housing in 1962 was cold and drafty, in a rather an oversized room. Another family lived in another part of the same weird complex, but by typical Bruderhof obedience, they tried very hard not to know anything of each other. Greetings,
click here to return to Table of Contents
In Memoriam Elizabeth Kaiser
by Bette Bohlken-Zumpe
Elizabeth Kaiser was born on the Rhoen Bruder-hof on March 14, 1931. I remember because I was born March 11th, and we usually celebrated on the same weekend. She was the oldest daughter of Rose and Manfred Kaiser, who married on the Bruderhof. Rose was the daughter of the doctor who was also the physician for Margarethe Boening in Nordhausen when she was a child. Mandred came from a theological family that was well-known to my grandparents. Manfred was very deaf, and in those days not much was done about this. I remember that on the Cotswold Bruderhof German members were not allowed to leave our property, but Manfred did and just went for long walks. One time he was picked up by the police and interned in Canada for the duration of the war, and only joined his family in 1946. Manfred was a very loyal member and always ready to do the lowest jobs like washing the dishes, endlessly, without really hot water and no soap. Although he knew a lot and was very clever in many ways, he also had a simple character that made him prone to the giggles of us children.
Elizabeth and Sarah were like the father, whereas Rosemarie, Leonhard, Paul Gerhard and Elfriede managed to hold their own and become members of the Bruderhof. Dette (Elizsabeth) was a member too, and I think was loved and well accepted in the Primavera of the old days. It was only with the "New Spirit from Woodcrest" that differences were made regarding your mental capacity. Members were no longer seen as "special in what they are able to give" but rather seen as a burden if they did not meet certain standards. Dette and Sarah were certainly not mentally ill, but maybe a little simple-minded, loving and joyful. I remember Detta often called us "little ones" to keep to the given rules, which we did not really like to accept. I remember one story in my childhood that made a deep impression on me. It must have been 1942 or '43. At that time I was great friends with Michael Gneiting (my age). He had managed to get hold of two curtain rings from his mother and we climbed a tree where Michael gave me a ring (we were about 7 years old) and we promised to marry each other. Detta stood at the bottom of the tree and called up to us, "You know, you are not supposed to climb that high!"
We got fed up and told her to leave, and if she did not leave we would climb down and hit her. Well, she did not move and went on calling up to us. So we came climbing down and Michael picked up the back end of a large palm leaf, which was full of thorns (we had not seen them) and started hitting Detta. But Detta did not move, nor did she cry or make a noise. After a while Michael said, "That's enough." And I said "No, you have to go on until she cries." Well, Detta never cried at all, so we just left her. Later that day we heard that Detta had a broken arm and had to go to Asuncion because she also had palm thorns in her broken arm. I remember the utter despair we felt for having done such a bad thing. We wanted to go to Asuncion with her -- we didn't know what to do! We wrote her letters asking her forgiveness, and when she came home again she brought chocolate for only Michael and me. I will never forget that. That is how she was -- no malice, no hatred or feeling or revenge, just a big forgiving heart, plain and simple.
After that I stayed in contact with her, even though we were never on the same hof. But we had out birthdays the same week and she sent me card all through my training years in England, and even in Holland I received some during the first years.
I was very sad to hear that Sarah was left alone in England after the Bruderhof left. What a sad, sad thing to do! Sarah was my sister Burgel's age, and apart from not being able to catch up in school class work, she was okay and also a very loving person. It is so sad what the Bruderhof has done in the name of Jesus Christ who came for the simple, trusting and faithful people and not for the know-it-alls, the Pharisees. Much love to each and every one, and have a good Christmas and a Happy 1999!
Miriam Arnold Holmes, 11/23/98: Even though Christoph Arnold ought to be ignored, like a parent ought to ignore a misbehaving three-year-old, I feel the need to express my outrage at his vile letter published in the November KIT.
How dare he mention my brother, Eberhard Claus' death in the same breath as the rest of his sarcastic, mean-spirited, nasty drivel! He is below contempt. I am not addressing this to him because he is not worthy of an admonition, nor is he capable of accepting any criticism. He is blind and deaf, poisoned by power.
Thank you, dear KIT staff, for allowing me to express my humble opinion and feelings. Merry Holidays,
click here to return to Table of Contents
Ruth Baer Lambach, 11/17/98: The AFF conference in Chicago was well worth attending. At least the portions I did. As with KIT and Communal Studies conferences, the most interesting thing is actually interchanging with others who've had similar experiences. At one lunch table there were two sets of middle to upper class parents each looking to get their adult child out of some "cult" two former members of the Children of God, me and a guy who didn't reveal much about himself. Perhaps he was from the Scientologists. The discussion was interesting.
On Sunday we had a long session together with only former cult members. At the door I asked if that was where I belonged and the lawyer who knows you and who was active in preventing the Moonies from buying land in Westchester County some years ago, pushed me in there. He gets KIT. I enjoyed the fact that the four-hour session was broken up into bite-sized chunks with a facilitator, one of the new exit counselors, and also former cult members leading each session. They had specific agendas, but it was very interruptible and most fascinating. I think the conference will take place in St. Paul next year and I'd advise any former Bruderhof person to attend. In fact I think this would be a fruitful profession (exit counselors) for many of us. They were very good, sensitive, aware and professionals. I also met Margaret Singer and heard her speak. I'd say well over 95% of the people were exits from Bible-based cults.
On another, sadder topic, my family suffered the loss of Leslie Ann Baer at age 50, my brother Luke's wife and mother of Jessica and Edward. Her passions in life were her devotion to her children, family and friends, her love of dance and music and a desire to serve God in all that she did. The following is an excerpt from the eulogy.
A beautiful but fallible and imperfect human being is gone. Nothing is left but a blessing and a memory. We cherish these memories.
Leslie was committed to beauty in all that she did and sought for through the arts, through dance and music. She was a beautiful person who would not be seen unless she was put together. She did not want to offend anyone with anything less than her absolute best. Her home as well as her dance studio reflected a highly conscious aesthetic sense.
Beauty in some form or other was interwoven with everything that Leslie put her mind to. She loved dance, and at her high school she joined the Wisconsin Ballet Company. ... When, after a while, she was rather bluntly told that she was neither lithe nor limber enough to be a decent ballerina, she just worked harder and spent longer hours in the studio practicing. She was not giving up her dream. She was not giving up that which made her happy. Her passion for dance undiminished, she left Madison, Wisconsin, where she had been told to hang up her dancing slippers and went to Oak Ridge, Tennessee, where she worked as an instructor, choreographer and artistic director.
Given her great commitment to beauty, it is indeed surprising that she married a frugal farm boy lawyer [Luke Baer] who, during his first years of working, was intent on paying off the house as soon as possible. ... It was through her experiences in Oak Ridge that she developed and matured as an artist, a teacher and a compassionate human being. In giving to others what she herself was not able to achieve for herself, she found some peace and purpose in her life. As a hard-working and passionate person, she needed to have something big to work on.
Leslie's passion for dance remained undiminished even though the situation in Oak Ridge ended. She moved to Minnesota and joined the faculty of the Minnesota Dance Theater. A courtship, a wedding and two children later, she once again restlessly started searching for a place to dance and to teach dance. She passionately needed to be surrounded by beautiful music, the arts and dance. Without these things in her life, her life was dry and barren; as dry and barren as the desert around Reno, Nevada, where they lived. Leslie persuaded Luke to help her create her own dance studio. When the family moved to Glenn Ellyn, Illinois, she once again, persuaded her husband Luke to help her build a dance studio. She was committed to dancing. Even during the last year when she was in pain, she sat and knit all day so that she could summon enough energy to teach her class in the evening. Teaching dance was her highest priority.
Leslie was fortunate, very fortunate, to have a loving, caring and intelligent mother who nurtured Leslie's unique genius. She was supported and encouraged to bring forth all of her fantastical dreams and act out her fantasy life. As an adult, Leslie continued using her creativity in her dress and in her decorations. Visiting Leslie's house was often surprising. She would decorate the family room totally and densely with Christmas colors, textures and objects, even if it was July, just because she liked Christmas so much. A tablecloth would get draped on the dining room windows as a curtain and sheets and baskets would get hung around and twisted into sensuous objects. She totally indulged her sensuality.
Leslie followed her bliss in everything she did. She could not do otherwise. Passionately she pursued whatever she was interested in and it didn't matter what others around her thought about her. She held her own course.
After her mastectomy Leslie was taken by her sister-in-law, Diane, to see The Phantom of the Opera. This musical made a deep and lasting impression on Leslie. She became a member of the Michael Crawford fan club, and wrote him a letter. When she got a response from him, she framed and hung it in the family room. She dragged me to downtown Chicago to stand outside the side door with lots of other women and girls to catch a glimpse of him as he emerged and was whisked away in a limousine. She saw the musical several times and played the taped music incessantly. She relived and relived and relived the story.
It is the theme in The Phantom of the Opera which gives a clue to Leslie's personality. Like the deformed phantom, she asks God why she has been saddled with a body that did not match her great desire. Why did God plant this passion for dance in her and then give her a body that couldn't do what she wanted it to do? This poem was written after she saw the musical for the first time.
The Phantom
An unforgettable moment upon life's stage,
So brief yet eternal.
An unexpected glimpse of the Divine.

Music gasps my heart.
I'm numb with emotion.
The deformed Phantom
Touches my soul with his suffering.
His torment speaks to me of
universal need.

The need to be loved beyond the physical.
To be loved for the divinity that is part of us all.

The curtain falls -- the performance is over.
But the phantom has left his mark.
Vivid images remain.
His voice sings on,
His agonizing movements take possession of my mind.

This artist who blesses us with his talent,
This artist who touches our humanity,
Demonstrates the best in man.

Through his gift, I have seen
The radiant face of God.

That memory will remain long
After the rest fades,
For it transcends the moment and the stage.
-- written after her mastectomy, May, 1991

Boldly, passionately and with great thoroughness and organization Leslie faced every problem in her life. She bought every book, listened to every tape and tried every vitamin, medicine and healing technique after her mastectomy She meditated. She wrote Dr. Bernie Siegel, the medical doctor who believes in the power of the mind to heal the body. She sent him one of her poems, Birthing, in which she compares the nine-month pregnancy with the nine months she endured chemotherapy and then gave birth to herself. This poem was published in his book entitled How To Live Between Office Visits. With characteristic fortitude and stamina she recovered and swung into life and made plans for their future vacations. Quoting another of Leslie's poems:
Challenge
The surgery is over.
Husband, children, family and friends.
Together we mourn my loss.
My femininity assaulted.
Part of my body gone forever.

And yet what do I have left?
My arms to hold the ones I love.
My eyes to see their beautiful faces.
My ears to hear the music of their laughter.
And my legs for Sunday walks.

And what have I gained?
A second chance at life.
A deeper sense of each new day.
A challenge...
One that will help me grow spiritually
As I gather my strength to fight this battle.
An opportunity to experience unconditional love.
A love so deep it sees beyond the physical body
To embrace the inner person.

And what have I lost?
A part of the costume that clothes my soul.

And what I wonder remains unchanged?
My spirit -- which no disease or surgeon's knife can ever touch.
For it is my divinity and my link to eternity.

In both poems, Leslie talks about the divine, her divinity and link with eternity, "an unexpected glimpse of the Divine." There is no doubt in my mind that Leslie grew spiritually through her suffering. She faced cancer with courage and humor. When she visited the doctors who irradiated her body, she would have messages written on her body, or she put on a strange wig and otherwise made light of a very serious and terminal illness. It was her only way of coping.
In the end she used her strong heart, her dancer's lungs and all of her muscles to keep breathing. Instead of measuring the time in weeks and months, her life was now measured in breaths. Each one was an effort and yet she continued for close to 30 hours. It was as though her lifetime of discipline and hard work was now all centered on that one task, breathing and breathing she did with the help of oxygen at the maximum level. In and out of consciousness, she surprised me in the last half-hour of her life with a gesture I'll never forget. She lifted her swollen arm and swirled it around. She was probably teaching dance in her dreams.
Nadine Moonje Pleil, 11/18/98: The Commune always tried to collect money from older ex-members! First they are kicked out and then, after many years outside, whenever the Commune hears about someone inheriting money or otherwise doing well financially, they go and say, "You promised at baptism to give everything you inherit to the Community." However these people are not members anymore.
Now they sometimes offer to take you back and look after you if you give your money. Well, what happened to Buddug Evans? Where did she end up? What have these elderly people done to the Commune to deserve such treatment? Would it not be more appropriate for the Commune to admit to what is really going on behind the curtains?
If we could get together with some sort of third-party mediation committee and to talk about reconciliation and peace, then we would need complete honesty on both sides. That is the only way that we would be able to meet and negotiate. No other way is possible.
I personally feel very worried about J. Christoph Arnold's two statements about wanting to have guns again just to find out what it would feel like to have a gun again. Such statements do not lead to peace and reconciliation.
I personally do want to make it very clear that I am not a member of the Bruderhof, nor was I ever one. I mean 'the Bruderhof as it is!' Furthermore, I am not guilty of having taken part in suing, breaking and entering, phone bugging and other such criminal offenses.
click here to return to Table of Contents
August Pleil, 11/11/98: I came to the community in August 1946. At that time the community went under the name of Sociedad Fraternal Hutterianos. Nadine and I were married when the community went under that name. We both became members of the aforementioned organization. We never became members of the Bruderhof as it is or as it is known now! When we were members of the Sociedad Fraternal Hutterianos, there was no suing nor police arrests.
There was a shoot-out in Ibate from robbers, but we never called the police! We only notified the police of Itacurubi by letter as we were required to do so. One of our members was shot in the upper leg!
During the 1947 Revolution, we did not protect or defend ourselves with weapons when the Colorados came. They took our radio transmitter, which we used for contact with Bruderhofhouse in Asuncion, our horses and wagons and our cattle.
I was in Loma Hoby on one of the wagons with Lloyd Jones when a group of soldiers suddenly appeared out of nowhere and demanded that we hand over the wagon and horses. Lloyd spoke to them in Spanish and I spoke to them in Guarani and we told them that we needed the wagon for our work in order to support the families in the community. They did not listen. They ordered us off the wagon and drove the wagon off and we never saw it again. Lloyd and I did not defend ourselves! We thank God that the Colorados left our people in peace. If we had tried to defend ourselves they would have killed us and would have killed all the people of Loma Hoby.
We were Christians and Pacifists and believed strongly in God. Therefore I feel we were protected. We always believed that God was with us.
I am shocked to see how the Community has slipped away from Christianity and the Ten Commandments and from the Law of Sannerz. I sometimes wonder if anyone really took notice of the Law of Sannerz?! Greetings,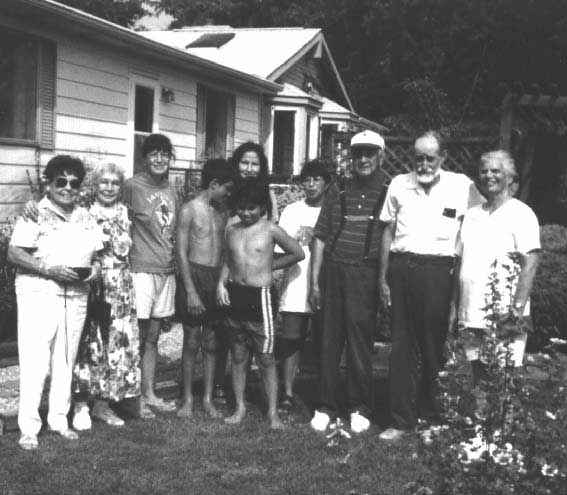 ADults L to R: Connie D'Hoedt, Teodora & Vence Jaime, August & Nadine Pleil.
German Pleil, 11/14/98: I would like to make a few comments towards my article in the November KIT issue. What I wrote, I wrote for the Mennoblatt in Paraguay and not for KIT. For KIT it should have been written completely different, for instance, in much more detail.
Because I had copies left over, I sent them to ex-members who had been there [in Primavera] until the end. I thought it would interest them too, so I sent a copy to Jere and Treindel Bruner because Treindel was there also to the end. Jere translated it and sent it to Ramon to put in KIT without my knowledge. Thank you, Jere! You did a good job.
Ramon phoned me and asked me if I would agree to put it in KIT. I told Ramon that I wrote the article for the Mennoblatt and not for KIT. Ramon told me that the article is unique and will give a good overview. My answer: "If you think so, okay with me." That's how the article got in KIT.
When I read the article, I needed to make a few comments. I did not see the translation before it was printed. Here I go. I quote KIT: "If then people came to interfere..." [p. 9 col 1]
I quote in German: "Als dann Eindringlinge kamen"
In English: "When the intruders came," because we did not ask them to come. They came by themselves to bring us the new spirit. You all know what happened then.
The other comment, I quote: "The new brotherhood consisted of thirteen people."
I left the word "people" out because every reader could make their own conclusion what the thirteen have been.
One more comment. I quote: "The new brotherhood had no part in that. My brother Adolf can testify to that."
What was edited out, first in German: "Es wurde ihnen nur so nebenbei als Geheimniss mit geteilt."
Now the English translation: "It was only as a secret mentioned to them on the side." In my opinion, it was treated as secret because if it came out too early, they were afraid a revolution could erupt from the remaining members.
The last comment concerns Belinda. I quote: "What I particularly value in Belinda is the way she very clearly describes how the calling of God came to her to follow Him, and to join in a Christian community."
In my opinion, it [the translation] missed out the sense of what I wanted to express. To put it bluntly, you can only serve one master. It's very hard to follow the task that God has given you personally and follow the leading of a Christian community.
In Nadine's explanatory note, she wrote "The Mennonite Review in Canada." This is incorrect. The editor of The Mennoblatt in Paraguay, South Amer-ica, asked if I could contribute an article. I wish you all a Merry Christmas and a Happy New Year,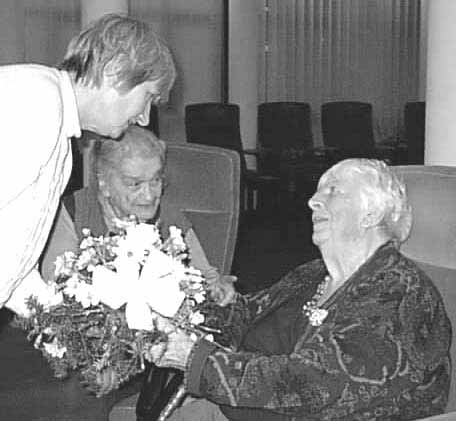 Janice Holland presents flowers to Belinda while Gerti looks on.
Angeline Barron Lundgren, 11/12/98: I've come to the simple conclusion that those of us who could not handle the rigors of a life totally committed to Jesus and his Sermon on the Mount had to leave that life. Now we can live a life we say is Christian but is only "conveniently" so -- not too much sacrifice, a lot of freedom, and no one around to witness our sins and guide us away from them. Now we can breathe easier because we no longer have the constant challenge of being a complete Christ-follower. We can do that when it suits us! For those that left as children we can hang on to the sympathy of others and forget that we are now adults and can make decisions about our spiritual life.
Although I believe that you believe that you are providing a valuable service to former Bruderhof members, I will maintain that you are instead misleading people that are vulnerable. The Internet is filled with your opinions on the Bruderhof and your need to "rescue" people from "cults". I in turn have attempted to contact the various universities or authors that are either studying cults or claiming to know the Bruderhof well enough to write an "authoritative" book on it. As I expected, no one is really interested in what I have to say -- it is not titillating or scandalous.
Those that are upset about lack of family contact: if you are Christian remember that the Bruderhof believes in God above family. Honoring thy Mother and Father may also mean respecting the way of life they have chosen -- don't criticize what is to them their whole life and then expect to be welcomed with open arms. If you are not Christian then don't expect to understand the life your family members have chosen -- just try to accept that they are there willingly and your criticism of their lifestyle and their leaders only hurts and creates a rift.
Don't blame your lack of contact with family on Christoph Arnold -- the scapegoat for all your misery. You are insulting your family if you think he is controlling them. My parents and my brother -- in New Meadow Run -- are independent thinkers and lovers of Christ who have decided that the Bruderhof life is the best way for them to follow Jesus in the most biblical sense. The other 8 of us children are living elsewhere after a period of adjustment and soul-searching. We, too, are independent thinkers. We all respect the decision our parents made to rejoin the Bruderhof even if it means our children barely knowing their grandparents. There is a hole in our lives but our parents are happy, my brother is content and his children are thriving.
Let go of your anger and fear. Remind yourself that any major change in life comes with the same feelings and is not unique to leaving the Bruderhof and can therefore not be pinned on them. It is a natural human response but it doesn't need to linger. Seek help outside each other and be wary of counselors that help "former cult members" desensitize themselves. There is good help and bad. If one kind of help perpetuates negative feelings toward the Bruderhof then it is the wrong kind of help. The KIT letters sound like many are receiving the wrong kind of help. I read no healing in them.
I believe true reconciliation (and I don't mean rejoining) will only come on an individual basis -- you have to disconnect from KIT and what it is representing and attempt to find peace on your own with the Bruderhof. If that reconciliation is not important to you and you find satisfaction in hanging onto and ventilating your negative viewpoints about the Bruderhof then also accept that you will not find peace.
Many are saying the Bruderhof is unChristian in its turning away requests for family contact, that that is not the loving way. Remember "God above family." I say make peace and doors will open. Just don't assume to make peace on your terms only. Don't attempt a false peace just to win visitation rights -- that is not lasting. You need to reach a point where you can say with conviction "I haven't chosen this way for myself but respect that my (family member) has and will honor that. I can accept that their life of service to Jesus is more important than me and that's OK. I am at peace with the people in the Bruderhof and they are at peace with me." This is extremely hard to understand now that we have gotten a taste of the liberal world that is the "outside." But if peace is what we truly want, we can find it, remarkably.
I would appreciate you printing this in your next KIT newsletter -- I give you credit for printing all sides of the issues. I thank you for the opportunity to express mine. Sincerely,
click here to return to Table of Contents
Bette Bohlken-Zumpe, 11/18/98: Dear KITfolks, The November KIT letter was a very good thing to read. One thing that really filled me with disgust is the letter from my cousin Johann Christoph Arnold from 9/14/98 to Ramon. The sarcasm and superficial mockery with which he addresses all of us (and some in particular) is impertinent, rude, very nasty and by no means worthy of a Community leader or a Christian! I have no words to express my absolute disgust with this letter. As with the JCA books, here again I do not think he wrote the letter, but had it written by someone who wanted to impress JCA by being meaner than he is.
It makes one thing clear: while the elderly members might live in fear but also the belief that the Bruderhof is on the right track, the next generation (like my own brothers and sisters) shut their eyes to all the wrongs and quietly believe that God will turn wrong into right. Meanwhile the leadership is out for one thing only, and that is money, money, money! The way JCA tried to promote his books every chance he gets is quite sickening and shows that it's not the contents that seem to matter, but the number of sales and being "a best-seller," as he claims.
All this has nothing whatsoever to do with Christianity and a humble, simple lifestyle! On the one hand I think, 'Let them live their lives as they want and I will live mine as I feel right.' On the other hand I see so many victims of this terrible attitude that we simply have to speak up when we are confronted with such evil! All JCA's books become a mockery in the light of such a letter to the Children of the Bruderhof who were kicked out or left of their own accord! I cannot add anything to the very good letters in this issue by Mel, Blair and Hilarion. Keep the letters going, friends!
I also enjoyed German Pleil's story very much indeed. He had sent me the German original, and here again I stand absolutely perplexed at how a father and father-in-law can actually change a $100 bill into DM 50 and then leave his children and grandchildren in an unheated house without a bathroom, and his daughter pregnant with her third child. Only fear will let a father do such things, fear of being sent away from the community, fear of being 'bad' in the Big Guru's eyes, fear of not living up to the 'Fuhrer's' expectations! Where did we hear this before? All this makes me very sad and mad at the same time! We just cannot leave the things we hear to solve themselves. We have to take a stand, and this courageously and without fear!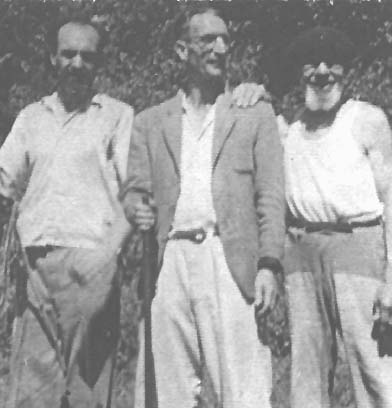 Hans-Herman Arnold, Fred Goodwin, Hans Meier - 1948 (?).
Buffalorunner, 11/1/98: In early October I drove to NY to close on our house which we were selling and pack up for the final move to Colorado. On the way east and then again on the way west I/we stopped over at the Jaimes in Sunbury, Ohio. It was an extraordinary experience for me to see Vence again and spend nearly two days with him. I had sheets and sheets of questions for him and he was only too willing to oblige. So we talked and talked and talked, over mate or dinner and a glass of wine or two. He told me about his youth, his military service, his family, the time he spend in the Chaco war in the early 30s. The days prior to the arrival of the SOB in Paraguay and Primavera. His early experience with the Sociedad de Hermanos and how he took part in so many aspects of building Primavera with the SOB. We soon realized that we had many, many things in common. Our love for the forests, the grass land and the many different kinds of wild life and birds and bees.
We both were avid hunters and he was able to clarify many questions I had. One, the wild pig "Javalin," did run in herds and used to be common on our property. It did indeed attack ferociously when encountered and the best escape was up the closest tree and then it would hang around sometimes for hours, not letting you escape. It did not, however, uproot the tree you were on.
As it turned out, my experience with catching the tapir was about the only way people would get a chance to kill one. Vence who was a knowledgeable and experienced hunter killed only one in the many years he lived and hunted in Paraguay. A hunter friend, from whom he learned as a young boy, also only killed one tapir in his life. Each time the tapir was far away from any swamps but close to a lagoon in the forest. When the dogs chased them, they took refuge in the nearest lagoon to be safe from the dogs. Unfortunately they also became sitting ducks, because the lagoons seldom were deeper than two feet of water.
Vence and Teodora have settled down with their three youngest daughters and seem to be quite content. They are thankful towards the community for the opportunity they have provided for all their children, which never would have been the case if they had stayed in Paraguay.
They prefer to look at the good side of the experience and discount any disagreements there may have been. The daughters' experience is somewhat different, but we did not delve into any details. One has to respect Vence and Teodora's views and should not challenge them. Vence is going to be 89 and has problems hearing and his arthritis is giving him problems. Considering what he has gone through during his life, he is doing very well. When visiting them one feels the old Paraguayan hospitality and their daughters follow in the same tradition. Saludos a todos,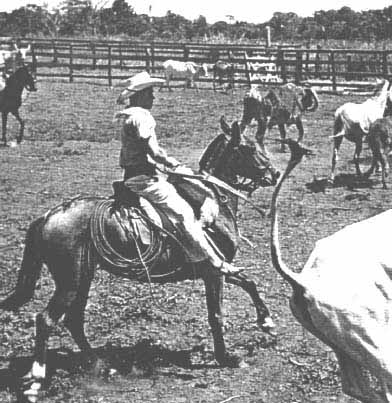 Hans riding Mercedes - Primavera 1959 (?).
click here to return to Table of Contents
The Vulture Chorus
from the popular Sillybert & Gullible operetta,
The Snatchers of Pence, to be sung to
"We Wish You A Merry Christmas" (chorus) and
"Glad Tidings We Bring" (verse).

Fleecing The Sheep
chorus: Please give us all your money,
We really aren't being funny,
Please give us all your money,
As you promised to do.
verse:
We'll bring you back 'home'
No mail and no phone
We'll feed you and sleep you
Until we don't like your tone,
chorus:
Please give us all your money,
We really aren't being funny,
Please give us all your money,
As you promised to do.
verse:
No visitors please,
Unless they have 'fleece',
All government pensions,
We'll happily seize.
chorus:
Please give us all your money, etc.
verse:
Please don't bring your pet,
Unless it's a jet.
We have thirteen already,
But need to pay off our debt.
chorus:
Please give us all your money, etc.
verse:
On attack dogs we dote,
They'll chew on your coat,
Just say the word "Kit!"
And they'll leap for your throat.
chorus:
Please give us all your money, etc.

verse:
We'll make a big fuss,
We'll fume and we'll cuss,
If interest and earnings
Are not given to us.
chorus:
Please give us all your money, etc.
verse:
So if you're writing your will,
Or cashing in at the till,
Don't forget your dear brethren,
'Home Sweet Home' on the hill.
chorus:
Please give us all your money, etc.

click here to return to Table of Contents
-- A Little 'Worse' For Wear --
From Brother Witless
That Letter
Just a few words about that letter
what got wrote by JCA Vetter.
A teacher would say he "could do better."

If he was in an English class,
doing exams, he wouldn't pass
and, sadly, look a bit of a chump.

PSSS: It wasn't written, or so it looks,
by the one who writes hiz (sic) books.

Nadine Moonje Pleil, 11/9/98:
August and I were still in bed when the phone rang. I answered.
"May I speak to Nadine Pleil," a voice asked.
"Speaking," I replied.
The caller was Notsochristian Domer. So we were receiving a 'wake-up' call from Notso! I was startled, to say the least! I cleared the sleep from my brain and told August to get on the other phone, which he did with considerable speed.
Notso said he had just read what I had written in the November KIT about the Bruderhof turning down attempts at reconciliation. He asked if we wanted to talk reconciliation. I asked when and where were we going to talk, and he said, "Now, on the phone."
"We cannot trust you," I said.
"Leave us in peace," August said.
"Then why don't you leave us in peace?" Notso replied. "Don't come with your children to the coffee shop."
"As far as I'm informed, the coffee shop is a public place where anyone could go to drink coffee," I said. "Do you think I had a bomb in my car?"
Notso replied that he was not as naive as that. But he wanted me to shake the dust off my feet as I had written in KIT and leave them alone.
"You are not Christian," August said. "We want to live according to the bible, but you do not."
Notso replied that they also were living according to the bible.
"No, you do not," August said. "And don't tell me otherwise!"
August then told Notso that it was time to repent and that he, Notso, should start to repent now! "We don't want to come on your place because we don't trust you because you have weapons and launch lawsuits and threats.
"Is it a lie when I say that you sued?" I asked. "Is it true that you sued?"
Notso was quiet for a minute, and then hesitantly admitted that they had sued and then added, "But we are not suing now."
I asked why they had sued, but he did not answer. "You may not be suing now, but you definitely did once," I added.
"In the bible it says do not sue, and if you do you will be sued," August said. "How would it be if we would sue you? How would you feel about that?"
Notso did not answer. He quoted the bible, and August quoted right back. August also knows the bible better than Notso!
"We do not trust you," August said. "You bug phones, you own guns, you take part in breaking and entering!"
Notso asked, "When have I had reason to ever trust you?"
"I don't care about that," I said. "I did not and could not trust you when I was in the Commune. If and when someone went to tattle on us to the Servants, then the Servants twisted every word I said. The Servants never adhered to the Law of Sannerz! And the Servants always forget or claim they have forgotten what they said!"
"We do not want to set foot on your property because we do not want to have drugs smuggled into our car and then have the police called on us," August said. "Again, we just do not trust you. You have weapons and you might shoot us."
"August, no, no, no!" Notso insisted. "That is not so! That is not true!" He laughed several times in a sarcastic way.
"We can visit the Hutterites," I said. "We are welcome. But you are not allowed to. You are excluded by the Hutterites. We can visit anytime and are welcome to do so.
"We are not excluded from the Hutterites," Notso replied.
"Oh yes you are!" I said. "Christoph even said so!"
Notso remained silent, not saying anything more about that. Finally he tried to say something, but August interrupted.
Notso finally became upset. "What's all this lecturing? I do not need all this lecturing on a Monday morning!" Then he told August not to yell.
I explained that August is hard-of-hearing and that people who do not hear well speak loudly. Notso responded with, "You do not need to tell me that! I am a nurse. I know about such things."
"If you do not want August to yell, then way did Wayne Shirkey yell at Renatus?" I said.
"Wayne did not yell at Renatus," Notso replied.
"Oh yes he did!" I insisted.
"Well, I wasn't there," Notso said. "But I'm sure Wayne did not yell."
Notso then accused me of yelling. I told him I wasn't yelling. In fact I stayed cool, calm and collected, over once raising my voice, and I think Notso did not like that either. He said that August was not just hard-of-hearing, but that August was angry. I did not answer that. And yes, August was angry!
I told Notso that we had in the past had so many unannounced visits from the Commune, and our feelings and wishes were never considered.
"Did I visit unannounced?" Notso asked. I said "No."
"I came out of love and brought cookies," he said.
"You wanted to lecture us from the bible," I replied. "We did not like that."
He laughed. "Obviously you did not want to hear God's message!"
"Did you think you were God's messenger?" I replied.
Notso laughed again and said no.
"Oh yes, you did think you were God's messenger," I said. "And you were disrespectful to August during that visit.
"August was taping without asking me," Notso said.
"No, it wasn't about that," I said.
"You taped me without asking," he repeated.
"I even spoke to August in your favor and told him he should have asked first. I did not know August was taping until we heard the recorder click off."
Notso said nothing. I remember that he asked us not to send the tape away to anyone. I reminded him about that, and told him we did not mail it, nor would we.
"Why did you record the visit?" he asked.
"Because I wanted to be sure that I had understood what you said," August said. "And also so that nobody could say that everything was not true or that you had forgotten."
"We were taped many times by Servants, and it was done without our permission," I said. "And who gave you the authority to call us today?"
Notso laughed.
"Well of course, you always do as you please," I said.
Suddenly Notso tried to butter me up. "We need Nadine the Rebel," he said.
"No you don't," I said. "You were very glad to get rid of me. You did not want to have me there any more."
"Oh, I don't know," Notso said. "Maybe you do not rate so high on the list."
"When I've visited the Commune, then it's like waving a red flag in front of a bull."
"Oh well, that's probably what you wanted," Notso said.
"No, people all thought they had to come and convince me to come back," I said.
"That was only meant out of love and concern."
"You could have kidded me," I replied. "We wanted to be friends, but ever since you came and visited us six years ago, we have been classified as the enemy."
"Yes, that is all your fault!" August said to him.
"We cannot be friends," Notso said. "We are brothers and sisters, and in the bible -- "
"No, nothing about the bible!" I said. "You crossed our names out of the Society book and we are not longer members."
"You are no longer members of the corporation, but you are brothers and sisters," Notso replied.
"No, we were never brother and sister!" I said.
"You crossed our names out of your book," August said. "But you cannot cross our names out of God's book!"
"Friendship does not feature in the whole thing at all!" Notso insisted.
"I understand that relatives make the decision as to whom they see and not see," I said. "Who made the decision for Christel Kluver?"
Notso did not answer. "You want us to phone ahead," August said. "What sense does that make? People from England phoned several times and were not allowed to visit their relatives." He told Notso again to start repenting.
"Nadine, I hope that you will join St. Peter in heaven one day before I do," Notso said.
"If you think that only the Commune is going to heaven, that it is a mighty small heaven," I replied. "And who are you to know who goes to heaven or not?"
"Don't judge other people," August told him. "You need to start repenting. We repented. We are all sinners and you belong to the sinners."
I asked Notso about the time when my mother Hilda died. I told him that I was not informed by them, and when I found out, I phoned the Commune but was put on hold and then told to call back. My minister son-in-law phoned on my behalf and was put on hold for such a long time that it became clear to him that he was not going to be able to talk to someone. I phoned again and was again put on hold and told that no Servants were on the hof and I should call back later. I insisted, and finally got Ian Winter who then admitted that indeed two Servants were on the place.
After I had related the whole sad story to Notso, he answered, "What shall I do with that?" But he obviously had been privy to the decision and had agreed to not informing me."
He not informed me that his phone call was not being recorded. I was not so sure about that, as one cannot trust him. He is a dangerous man!
August really gave Notso an earful. For a long time August has wanted to tell Notso exactly what he, August, thinks about him and the Commune, and he did just that! August had Notso on a very short leash!
"The Bruderhof has changed less than you think," Notso said.
"No, the Bruderhof has changed a great deal," August replied. "Under Heini there were at least no lawsuits, no guns, no breaking and entering, no bugging of phones, and whatever else you are doing now."
"You visited the coffee shop after you brought Renatus," Notso said.
"You have it all wrong, but it really doesn't matter when," I said.
Notso was obviously angry that he had not known about the coffee shop visit! He also said that we had last been visited ten years ago. I told him he had his facts wrong again, and he did not like that.
Notso lied to us, as he usually does. I asked him what the purpose of his phone call was, and he mumbled something about 'reconciliation.' I told him we had all tried three times, and others apart from that, and he had turned these offers down. I again told him that we did not trust him enough to come alone to talk reconciliation. It was not possible for us to attempt it. He again said that he had no reason to trust us, and I said that did not bother me in the least.
"Why do you have such a bad attitude?" August asked him. "What you did to Renatus was absolutely unchristian! If a man asks for a jacket, then you give him your coat too."
"It does not always work like that," Notso said. "We cannot always do that."
August then lit into Notso on that issue, and gave Notso no chance to talk him down. He more than ruffled Notso's feathers! I admire my husband for the way he did not let Notso get the better of him. A few times, believe it or not, the man was left speechless. Wonders never cease! August did not let Notso get away with a single thing!
I made it very clear to Notso that I really wondered why on earth he had called us. I also thought that they did not get on the Internet any more. Of course I should not be certain, because Notso does what he wants.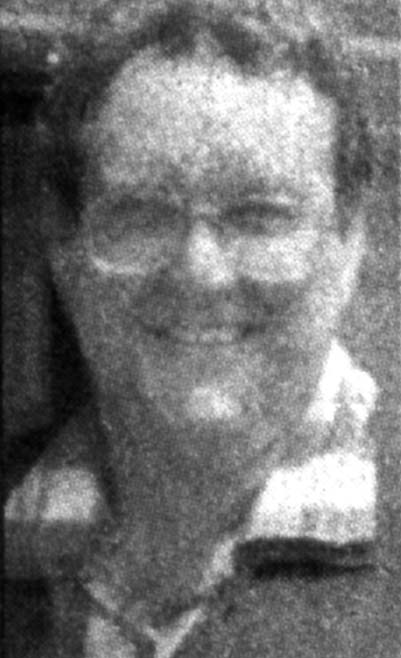 Christian Domer, 1994, The Kingston Freeman.
Notso did not get a chance to lecture us because August was always ready with an answer for him. Notso obviously did not appreciate that the lowly Pleils, the meek and mild August, did not want to listen to him lecture. I am sure he felt rather thwarted.
"Why don't you shake the dust off your shoes like you wrote in KIT -- and Renatus did it too -- and leave us in peace?" Notso asked again.
"You leave us in peace!" August replied.
"You read and believe all that stuff printed about us, and it's all rumors!" Notso said. Then he tried to convince us that what they were doing was all legitimate! Maybe Notso has met his match after having August's input.
"Repent before it's too late," August told him.
We told Notso that a couple in Sinntal had been told by Heini that they had to leave and later could come back as guests, not as brothers and sister. We also told Notso that Merrill, John Hinde and Christoph had told us all apart from one another that if we came back to the Commune, we would have to go into Ausschluss for ten days before being taken back into the brotherhood by the laying on of hands. Notso denied all that and said, "Not true."
"Oh yes, it is true!" I insisted. "Three people told us, all of them Servants of the Word."
Notso started to quote from the bible, and August told him that it was not necessary to quote. We told him that after that message we were not considered brother and sister, and Notso now has told us that we cannot negotiate as friends.
Notso finally became fed up and said, "I don't want to be lectured to. I'm going to hang up."
So we hung up before he could.
August said to me "Den habe ich aber ge-washen!" "I really gave him a good wash. "
During the conversation, August told Notso to stop suing. "You are not pacifists and you are not Christians!" he said.
Notso again said that it was "all rumors" and laughed about it all.
August then repeated, "How would it be if we would all sue you?
He said to me in German, "Viele Hunde sind des Hasen Todes" -- "Many dogs are the cause of the hare's death."
Notso was ticked off that we never answered his letter. He mentioned that he had written to us six weeks earlier. Too bad he did not get an answer, but it was the same treatment the Bruderhof uses against so many. I think Notso's feelings were hurt!
click here to return to Table of Contents

Books/Articles Currently Available:

Cast Out In The World by Miriam Arnold Holmes

Through Streets Broad and Narrow by Belinda Manley

Torches Extinguished by Bette Bohlken-Zumpe

Free from Bondage by Nadine Moonje Pleil

The Joyful Community, by Benjamin Zablocki

Each $17 postpaid U.S./Canada, $20 Overseas

KIT Annuals: 1989-1990 @ $17 $20 Overseas

1992 1993 1994 1995 each $25 / $30

All in larger type, spiral-bound with index

"Expelled Members Speak Out" by J. A. Hostetler $1/$2

"Open Letter To The Hutterian Church," by Samuel Kleinsasser, with added articles, 120 pages $5 / $8

"Our Broken Relationship With The Society of Brothers," by S. Kleinsasser, 16 pps $1/$3