P.O. Box 460141 / San Francisco, CA 94146-0141 / telephone: (415) 821-2090 / FAX (415) 282-2369 / http://www.perefound.org / e-mail: peregrin@sirius.com
KIT Staff U.S.: Ramón Sender, Charles Lamar, Christina Bernard, Vince Lagano, Dave Ostrom, Brother Witless (in an advisory capacity)
EuroKIT: Joy Johnson MacDonald, Carol Beels Beck, Elizabeth Bohlken-Zumpe, Ben Cavanna
------ Table of Contents --------
Margot & Blair & Emily Purcell
Phil Hazelton
Nadine Moonje Pleil - Tom Potts
Pauline Ellison Davies
Margot Purcell
Melchior Fros
Lee Kleiss
Christopher M. Zimmerman
Elizabeth Bohlken-Zumpe to C. Zimmerman & to J. Christoph Arnold
Hans Zumpe's dream
Renatus Kluver
Nadine Moonje Pleil
Pauline Ellison Davies
Paulo Allain
Hilarion Braun
Anony E. Mouse
------- alt.support.bruderhof excerpts -------
Dave Goodwin - letter and 'No
Man Is An Island,' Betty Chesley
Dave Goodwin - 'Camp Alleghany'
Art Rosenblum
Hans Zimmermann
Elizabeth Bohlken-Zumpe - book review
ITEM:The Sixth Annual Rocky Gap Reunion will be held on the weekend of May 21st, with the traditional picnic on Sunday the 23rd. However it will be held at a new site -- i.e. not Rocky Gap. For site information, contact the Purcells at home: 301 869 6694 or on their business phone: 800 672 9089.
Margot & Blair & Emily Purcell, 4/9/99: The Capitol City experienced a major event in that on Wednesday, April 7, Phil Hazelton and Aline Tristao Bernardes decided to tie the knot.
Maraveilloso - Rejoice - Be Happy - Laugh - Sing - Celebrate - Party - Be Joyful - Cheers - Felicidades - Wow! - Congratulations! - Sei Froehlich!
Aline and Phil, we are so happy for you and wish you all the very best in your life together!
Phil Hazelton, 4/11/99: Thanks Margot! Your and Blair's and Emily's presence really put the cherries on the cake. It helped to connect my former life (lives) with the present! I felt a sort of reassurance to have you all who know my background and origins with us at this time. I also felt reassured, given your and Blair's experience with each other. Muchisimas gracias; multo obrigado; vielen Dank; Merci beaucoup; asitman-dve; dankje vell.
We shall be having a more ample initiation at Siward & Leslie Hazelton's in Dalton, Mass. the weekend of July 4. All will be welcome. I shall send information as the date arrives. We shall then do a similar thing in Brazil in late fall with Aline's huge family in Juiz de Fora (1-1/2 hours west of Rio).
Aline's history and life are a real odyssey, as are ours. She is the only girl in a family of eight boys; her mom died in childbirth with her, so Aline never knew her, a huge challenge for her dad who courageously plugged on. He has owned and managed a pharmacy all his life, and Aline's memories are of spending long hours after school serving in the pharmacy, as did all her siblings. She studied biology and has a master's degree in herpetology. All of her siblings are well-educated and their jobs range from teaching in schools and universities and managing businesses. One of her brothers is a great artist and another is involved in local theatre. Her oldest brother is professor in Theoretical Physics at the University of Minas Gerais in Belo Horizonte and Ouro Preto.
We read Rumi's poems at our licensing ceremony at the Arlington Court House in Virginia. We had a great lot of fun getting through the very simplest of requirements and ceremony! I had to go back to work for a meeting right after but we did escape on our bicycles to Georgetown and canoed the Potomac until sundown, closing off with a great Italian dinner at a sidewalk cafe in Woodley Park. Cheers,
ITEM: The current Plough announced the death of Tom Potts, 90, of the Woodcrest Bruderhof. Tom and his wife Florrie were among the very first Americans to join, travelling from their Philadelphia steel business to Primavera. Members of the Society of Friends, the Potts brought substantial wealth with them to the Bruderhof. Tom is survived by his wife, their three children, Tony, Miriam and Margret, and more than a dozen grandchildren.
Nadine Moonje Pleil, 4/23/99: Tom Potts, who died January 13, 1999, was a millionaire director of a steel factory who really had no need to join the Commune. A Quaker who always cared about the poor, he became a Bruderhof member because he felt that in doing so he could show more compassion for others. He had a very deep-seated faith in God. At the time, the Commune seemed to be the ideal place for him to put into practice what he felt was the right thing to do.
I appreciated Tom Potts the steel magnate, the Quaker, the man, and most of all I appreciated the warm-hearted, loving brother he proved to be to all those he knew. He is the man who gave Community Playthings the head start that it needed to grow into what it now is, a good solid business.
Tom, I appreciate your love and kindness, and so I say farewell to you.
click here to return to Table of Contents
Pauline Ellison Davies to Ramon & KIT staff, 4/14/99: Just a little note to express my appreciation for all the hard work you do to produce the KIT letter each month. I'm sure it is appreciated by many who never tell you personally, so I just want to let you know how I feel about receiving it each month. It is just like getting a visit from all my old friends. It is very varied, and some letters I enjoy more than others, but it always give me a thrill when it arrives through my letterbox. The writing is very small, but thanks to a special magnifying gadget, I can still read it. I'm looking forward to our next gathering at Andover in May, and I hope that one day some of you will make it to England again.

I also want to say, to whom it may concern, that I was deeply touched by the kind and generous offer to help me buy a viola. I had planned to do so, but this gave me the final okay to go ahead, and I found a Hungarian viola at a reasonable price, even though it was a bit dearer than the very cheap Chinese models. But I was warned not to waste my money on those as they sound terrible. So I've bought the Hungarian one and play it every day. I am so happy with it! Bless you all and thank you! Love,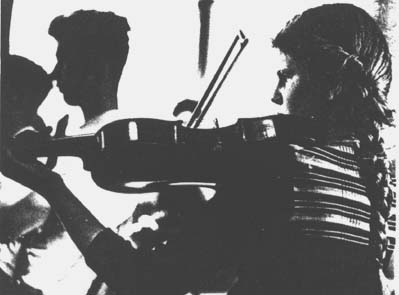 Geert Burger and Pauline Ellison, Wheathill Orchestra - 1950s
Margot Purcell, 4/7/99: I wrote the following mostly for Paula because she wanted to know about the time her parents, the McWhirters, left the Bruderhof. I wish we had a detailed history about this era, but sad to say, none of us on the outside except for a few were there in the meetings that decided how to dissolve Primavera. So many were booted out at that time.
From what I know (which is very little) the American hofs -- mostly Woodcrest -- were tired of sending money down to help the communities in Paraguay. (There were other reasons as well). Most of those who lived in Woodcrest were new American members, very few were from Paraguay days. (Note: most families who moved up to the states in those first years either went to England, Forest River or Macedonia. I don't think that Heini wanted to have those who knew him from Paraguay living on the same hof.) When a general cleansing is needed on the hof, you have to have a "crisis." This begins with the need to "see things, clear things up, revive the spirit, relight the fire," etc.
In the Primavera crisis, several servants and witness brothers went down to Paraguay to see what the problems were and they found that the community in Paraguay was not in the right spirit. At that time the brotherhood was dissolved and slowly one by one some were taken back in. These folks had to sacrifice everything to get back into the membership. Many, many families and individuals were found not to be fit for the life, despite the lifetime vow they had taken. These all had to leave. Some were taken to Europe in the guise of entering a hof there, then booted out, others were left at the gate. Others were taken to the capital, Asuncion, and found scant help with their respective embassies.
I cannot imagine how life on the hof was at that time. I remember when we were told that all the hofs in Primavera were to close and many families would move to the States, it was a joyful announcement. Little did I know the pain involved in this. Of course we (the children) had no idea that so many would not remain on the hof. By then Oak Lake and Evergreen were in existence and Forest River had been discarded, and Wheathill, Sinntal and Bulstrode would soon follow. I do not recall the dates of the various hofs opening and closing, but it seemed to go very fast at that time.
The reasons for renewed membership in the new brotherhood in Primavera were as varied as there were people. My personal feeling is that it was at the whim of the new servants and elders who "ruled" down there. From the USA several trips were made to send new servants, who replaced the tired ones. My dad went down twice. He has not talked about this to us, but I know it was hard for him to see those who had struggled so hard alongside him to be asked to leave. I wonder how he could have been a part of all this. It must have been very difficult.
Individuals who left must have felt very depressed. Being found "not fit" for a life you thought was The Way must have been a hard blow. Then, to find yourself and family stranded in a foreign country with no means of support, no language skills, suffering such a great loss must have been difficult. I know many children were hurt as their parents did not, could not, explain what had happened. There was no support from the Bruderhof for those who were forced out.
I am so happy that we are organized enough to offer support to those who leave now, who choose to accept this help.
I hope that we can get the Primavera history down, but there, again, I don't think one person will know it all. Some of it is included in books by Roger Allain, Bette, Nadine, Belinda, Muschi and the Bruderhof, some in the various KIT issues.
I hope this is mostly correct info. Please, anyone who was older and more knowledgeable, fill in, correct, etc. The real story needs to be written down. Love,
Melchior Fros from an e-mail Hummer listserve posting, 4/16/99: I just finished reading Migg's story in the April KIT. I am unashamed to say that I rested my head on my arms and wept. Sometimes that is the best and only thing to do. My love and admiration for the "Primavera generation" is increased by Migg's story.
The recent letter Christian Domer wrote to Bette and responses by Bette and Renatus bring me so close to the latter and so distant to CD's corporate "empire." Executives such as he have never had the "privilege" of enduring suffering, it seems. In a certain sense I pity them, "for they know not what they do." Theirs is a corporate Bruderhof; Migg's is a spiritual, blood-sweat-and-tears authentic one.
What happened after Migg's return to "the world?" How did the Primavera kids "make it" in the outside world? That's another story, and an interesting one that needs to be told. I would like to try, but what I may share will be insignificant in proportion to what Migg's generation went through.
Margot, you mentioned that we need to get the history of Primavera written down. I submit that the story is best told through the writings of many. It is only in this way the richness of our heritage and the present corruption thereof can be understood.
May God bless Migg and the many dear ones who gave so much for our sake.
Lee Kleiss, 4/12/99: My memories of events around the time of the McWhirters' departure from Primavera follow. While I was still in Ibate, Luise H (?) left. Any inquiry was met with silence (Schwam drueber), and how awful it was when a sister broke a vow. It was as if she had never existed -- but I knew her. Similarly Belinda Manley and Maureen Burn chose to leave Primavera on their own in March, 1958. As I did not know them personally (we were not on the same Hof), I probably only learned of this on my visit to England in 1962.
Late 1959 or early 60 I was in difficulty in the laundry, taking on too much responsibilty, putting logs on the fire, sorting the soaking laundry or adding to the machine. That was supposed to be the man's job, Jim Peck. So I was put out of the Brotherhood and placed in the sewing room and the kitchen under Doris Boller and Herman Pleil. Both treated me well and I had a good time. (I couldn't believe one could prepare fruit salad for the whole Hof, but when bananas came in we did. Now I still like to make it. Unfortunately my family only likes green bananas.)
The McWhirters requested [to leave], or fled, on their own at about that time. Jim had been wagoner and it was requested he do more work or lift heavier things, something he couldn't handle with his Parkinsons. He was threatened with Ausschluss for unwillingness. Come to think of it, it was the milk cans he was supposed to lift off the wagon. It was discovered that the kitchen worker who had been helping him was pregnant and couldn't do it anymore. At that point Kore said, "This is it, let's leave."
I do not know how they got passage money, etc., probably from family. They landed in Miami. A vendor was touting fruit. Paula begged for a banana. Kore tried to offer her an apple, which was cheap, rather than the expensive banana. Though very short of money, traveling with four kids isn't easy, Kore or Jim gave in and Paula got the banana. Eagerly she pulled it open and took one bite. How disgusting! She threw the green, unripe banana on the ground. She was used to tropical ripe bananas.
They ended up at Celo where the Newhausers had moved when Kingwood broke up. They first stayed in Dave Salstrom's little cabin, so small that Kore and Jim entered their bedroom by climbing over their bed to get to the dresser! When I first corresponded with Kore (or did I hear it from other sources?) I was shocked and wanted no further contact because she said, "You can't put Jesus Christ in a paper bag and close it and claim you have Him." At that stage I felt this was very sacriligious against the Bruderhof! Boy, have we all changed! It was a typical pictorial yet wise remark of Kore's, but at that stage in my recovery I avoided her.
Back to me in Primvera: feeling comfortable in the sewing room and working with Herman in the kitchen, I accepted that I had fallen into my aggressive, leadership-planning-doing role and requested from the Brotherhood to be reinstated. I vividly recall waiting on one of the stools in the empty kitchen while the Brotherhood met in the dining room in Loma. I was never called in. Will Marchant came out and told me the Brotherhood decision: "The freeing and recognition you experienced must have come from the Devil," End result: I must leave.
Stupidly I begged not to have to break my vows, etc. When they found a job for me with Max Meier, I was delighted as there was a chance I could return. Ausschluss was never suggested because they could not really point to a specific wrong. Later I learned that the SOB had some major debts with Max Meier and hoped in this way to keep him at bay. The horrors of that is another story.
Eventually I returned to the Asuncion House, waiting and waiting for passport formalities to be able to return to the States, as I had been away 8 years. Marei Braun and Johnny were Haus-parents. I begged for an Ausprache (chance to talk). It never came. The day they took me to my plane was the same day that the first bigshots arrived from Woodcrest. My Ausprache was over a cup of coffee at the airport where Johnny admitted he did not know why I was being sent away. "You have been acting like any good sister," he told me.
I'm just now realizing the tremendous pressures Johnny, etc. were under. They acted joyous to be meeting the two bigshots from Woodcrest, sensing also a big crisis. I will never forget the joy Johnny expressed in 1962 when he could ask me for forgiveness. I wish more of such reunions were granted to others. Greetings,
click here to return to Table of Contents
Chris M. Zimmerman, member of the Bruderhof, 4/15/99: With the publication of her book Torches Extinguished some years ago, author Elisabeth Bohlken-Zumpe proved her mettle as a memoirist whose capacity for creative recollection knows no bounds, and a "historian" whose guiding principle seems to be this: when the facts don't fit, look for an expedient fiction.

Now she's done it again, with a new piece (see the KIT Newsletter, April 1999), on the genesis of the Bruderhof's well-known house rule, "The First Law in Sannerz." Like most of what appears in the newsletter-- a veritable tub of literary s*** -- the 'article' in question is a ludicrous mix of conjectures and bald-faced lies. That is not surprising. After all, the paper's primary aim has always been to provide a platform for windbags eager to share their sour grapes. What is surprising is the fervor with which Bohlken-Zumpe attempts to deny the existence of an extant historical document whose provenance is so obvious.

Bohlken-Zumpe says she has "never seen a written First Law in Sannerz! There was no written law anywhere! It does not exist! I don't even know what it says, as I have never seen it or heard about it... That is why I have written about it here!" [The exclamation points are hers.] According to this beautifully incoherent syllogism, the letter you are reading right now does not exist either -- simply because Bohlken-Zumpe has not seen it. It does not exist!

Like it or not, there is such a document as the "written First Law" housed in the Archives of the Bruderhof Communities and existing in several forms. The original document is among them: a yellowing typewritten sheet bearing a handwritten date ("August 1925") and other markings in the unmistakable hand of its author, Eberhard Arnold.

Intended (and still regularly practiced today) as a guideline for solving personal disputes, and having as its historical basis Jesus' words in Matthew 18, the "First Law" reflects a wisdom, sanity, and grace that is wholly foreign to the idea of conflict resolution as it is practiced in most circles today. But that is probably not the real reason Bohlken-Zumpe is upset by it. To this reader at least, it seems likely that what she really fears is the threat the "First Law" poses to the very existence of the KIT newsletter. Without its monthly helpings of gossip, malice, slander, and spite-all unacceptable forms of communication, according to the "First Law," the publication would fold, never to be seen or heard of again.

But there is a happy (conjectural) ending to this sorry little tale, and it is this: Bohlken-Zumpe, now being enlightened as to the unmistakable existence of the "First Law in Sannerz," will read it, take it to heart, and stop gossiping. KIT will fold. Then, finally, her eloquent protestation can ring out once more, this time truthfully: "It does not exist!" Waiting for that day,

Elizabeth Bohlken-Zumpe, reply to the C. Zimmerman letter, 4/25/99: The language and tone of the above letter made me feel that it does not need answering because of the lack of respect and love towards former members of the Bruderhof. To call any serious attempt to make peace with our families through a newsletter "... a veritable tub of s*** and the articles "a ludicrous mix of conjectures and bald-faced lies" has absolutely nothing to do with the love and understanding with which the Bruderhof communities were started. The spirit in which this letter is composed is most certainly not a Christian spirit. If it was, Zimmerman would have sent me a copy of "The First Law of Sannerz" to make the point clear to me and to him: but instead he tells the world: "We have created a platform for windbags eager to share their sour grapes..." Also I am 'afraid to face the truth' of The First Law of Sannerz. All this is not Christian and lacks every form of decency and honesty.

To go back once more to the First Law, my grandfather was a theologian and much afraid of misusing the bible to interpret his own thought, as is done in many churches. One example: my uncle Hardi came to his father excitedly to tell him that he had found a prayer Jesus had given us to use which really contained everything that we should pray for. My grandfather was delighted, because he said, "For my children, the bible is new and the Lord's Prayer something they found themselves."

Clean and without churchy associations! I think the same is true for the First Law: he used Paul's Letter to the Corinthians (you should read that!) to make a point of not talking badly about people or gossip. His children were (in 1925) 14, 13, 12, 10 and 7 years old, and he wanted to really show them the true way of love. People who decided to join in the 1930s never heard of such a law, nor did I as a child or youth. But we did know the Letter to the Corinthians and other parts of the New Testament. We knew that love makes you look for peace with your brother before the sun goes down and that "love is never puffed up, is not provoked and thinketh no evil." If a paper from my grandfather exists, then it was never meant as a "Law" to change mankind. He did not want to change mankind, but believed strongly in the voluntary discipleship! Surely it was not posted on every wall in the house! Also I know, from Heini, that many of the early documents in Primavera either were eaten by termites or forgotten in the back woods during the large 1960s' exodus. Many of the authentic documents in my father's possession were burned in Bulstrode when his office was cleared out by fanatic members 'fighting evil.'

I want you to be more open and honest, Chris. If you have a document, then address me personally. That would fit my grandfather's faith and convictions, and would prove to me that you really know and live "by the First Law of Sannerz" that you seem so sure of.

4/20/99:

Open Letter to Johann Christoph Arnold via KIT: I write this letter via KIT because then I am sure that you, Christoph, will see and read it, and it will not be withheld from you by Christian Domer or Joe Keiderling. Both of them have shown us that they have no respect, no love, and no will for reconciliation with any of us former members of the Bruderhof.

Dear Christoph:

A few days ago I received your letter from April 13th and a copy of your "new" book called Drained. Although the title reminded me of a kitchen sink that needs a plumber, I thought the booklet looked nicely edited and beautifully arranged, with the different chapter titles and the usage of many wise words from men of our time, as well as from our ancestors. When I started reading, I thought 'I have read this before.' So I took out your book Seeking Peace and yes, you use the same stories and anecdotes. Probably this "new book" is an English edition from the American book you wrote before, more condensed with a few new stories and wise words from radical thinkers of today.

You write, "I would be very interested if you could look at this book critically and, like always, write me an objective report." So I will do that. [see also EBZ's review on p. 10]

To the inexperienced reader, this book looks good and seems to give answers to the world's needs and the struggles of the men that inhabit our earth, but I get very mixed feelings when I read your words. I wrote to you about the story of my mother in your first book and you have not taken anything I said seriously enough to either leave the story out of your writings or to change it.

This is more than hurtful not only to me, but to all my brothers and sisters as well as my aged mother, now 88 years old, the oldest daughter of our grandfather Eberhard Arnold. Therefore I take it is my duty before God and men to dismantle your high position of "preacher, marriage counselor, pastoral helper for the terminally ill and their families, counselor of single people, prison inmates, managing editor of The Plough, active speaker who has appeared as a guest on numerous television and radio programs, and on seminary and college campuses.

1.,You, Christoph Arnold, have never studied theology (like our grandfather) nor have you any training whatsoever in counseling any group of people. All you have is a community of trusting men and women who asked you to be their leader.

2. All the personal stories you write about, belong to our community's ancestral experience and are none from your own merits or successes.

3. You write in the 'I' form, which gives the reader the idea that you have fought through all this yourself, while the life in community does not receive the value it deserves from the life-long commitment of its members.

4. You use very personal experiences, to "make" a good book.

5. Due to the fact, that you are the "Elder," you make trips all over the world, meet and speak with famous people and use this to make your name known and shine. Where is the humility we were taught?

6. You personally enrich yourself, which is only possible due to the hard work that the members of the community are willing to do without pay or reward.

Please think about these matters!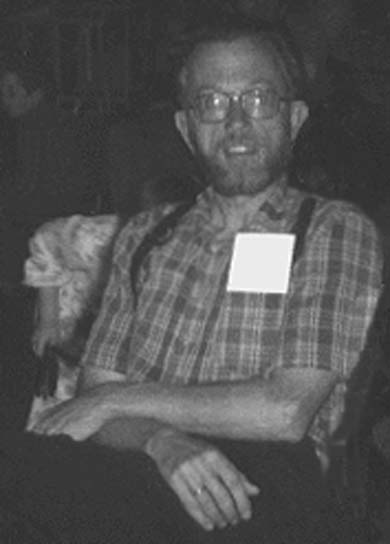 Johann Christoph Arnold during a visit to the Cust Community, New Zealand - 1994
Now about my mother:
I know that you, while you were still in your teens, only heard evil about your uncle Hans Zumpe from your father when Hans was "deported from Woodcrest" because he faced up to a sin against my mother and the community. He begged to have a chance to repent within or near the Bruderhof but was hard-heartedly left in complete isolation. My youngest sister was 8 years old and my brother 11 when their father was taken away and they never saw him again. It is an absolute lie that he never repented and you know this in your heart. He was no longer wanted on the Bruderhof and your father made sure of that. Everything you write about him in Drained and in Seeking Peace is untrue and in no way "seeks peace" with a man who has been dead now for 26 years. You do everything in your power to assassinate his character and memory. Is this the peace and forgiveness you preach?
My father grew up as a lonesome child, having lost his father at the age of 4, and living with a unstable mother whom he tried to keep out of mental institutions. He wanted to join the Benedictine monks because he wanted a life dedicated to God alone. He did not study, but read everything he could lay his hands on in the large bookstore where he worked. He loved music and knew all about the many composers. As an 18-year-old, he heard Eberhard Arnold speak in Dresden and was touched deeply by the compassion E.A. had for all men and his love for Jesus Christ. So he went to Sannerz and decided to join in 1927.
Our grandfather loved him. Hans was an 18-year-old with whom he could talk, while his own sons were only 13, 11 and 10. My father loved E.A. as well, because E.A. was the father he had never had. Soon he was part of the Arnold Family and Opa asked him to do the bookkeeping and see to all financial matters long before the Hutterite position of Steward was established. Opa wanted the marriage of my parents very much and pushed both of them, as was done in those early 1920s in many families. What you write, "She admired him like everyone who knew him for his intelligence, enthusiasm and charisma" is not exactly true. Mama had her heart set on someone else at the time. You write: "...what started as a happy marriage soon evolved into a nightmare." This is also not true, but the young marriage suffered a lot due to the fact that my mother's brothers envied my father's position with their father. E.A. died too early; his sons had not matured enough to help him or take over his tasks and he had asked my father to do this. Eberhard Arnold was not blind when he asked Hans Zumpe to be his helper. He understood his capability for love and compassion in leading the small Brotherhood.
Times were troublesome, to say the least. and it was my father who went to all the Gestapo offices before 1935 and for sure after that until 1937. He was the only one who endangered his life that way. The Arnold boys were safe in Switzerland.
You write, "On the outside, things look great. Children arrived one after the other..." Do you know that Oma Emmy made a row every time that Mama got pregnant because she felt that Emi-Ma was physically not strong enough for yet another pregnancy? You write, "Hans had an insatiable desire for power..." You know, this is not true, but the Bruderhof history became so twisted that you might in fact believe it. "To criticize Hans meant to open herself (Emi-Ma) to his sarcastic tongue-lashings, and it was much easier -- more hassle-free, more comfortable -- to accept him as he was. Hans was mistrustful of almost everyone he lived or worked with, and there were few he hated more than his wife's family..." Christoph this is so evil and so untrue. The worst thing is that you use my mother to further your own ends when you write, "They simply trampled on anyone who got in their way or dared to oppose them. In effect, she became his accomplice, pandering to his ambition." Christoph, Christoph, is this the voice of peace and forgiveness?
My poor mama was diagnosed with infectious, acute tuberculosis that she caught from Tata, and at the age of 28 she was isolated completely from the Community. During the bad air raids at the Cotswold Bruderhof, she was alone in a little hut at the bottom of the "Kuppel." She remained in isolation until the year before Charius was born (1947), seven long years. She never complained, but took this as a burden that God had put upon her. She did not even know half of what the Brotherhood struggled through.
You write, "...Emy-Margret finally began to see that she was living a lie; that everything she hung on to -- prestige, power and attention of people who admired or envied her social standing..." All this is so very evil and wicked that it is difficult to understand that you really want to be children of God and live in love and peace! It is true that the last two years of Papa's life in Community were a lie to us, the family, and the Brotherhood. But he repented before God and died in the faith that God held his life in His hands. His love for my mother never ended and that is why, in the end, he did not want to burden her even more by trying to come back. When he received a letter from Winifred Dyroff asking him for permission to get German passports for Emmy and Charius, he still hoped to see his beloved children again. He phoned the German embassy in London and asked them to give them a European passport only. What did the Bruderhof do? They went and got them Paraguayan passports, which made it clear that his two 'little ones' were lost to him.
Christoph, perhaps you may not read all this, but I want to ask you to examine your heart and see if all the things of which you accuse my dad are not actually your own ambitions in life! This is like a personal Kosovo, and will not bring the peace we ask for.
click here to return to Table of Contents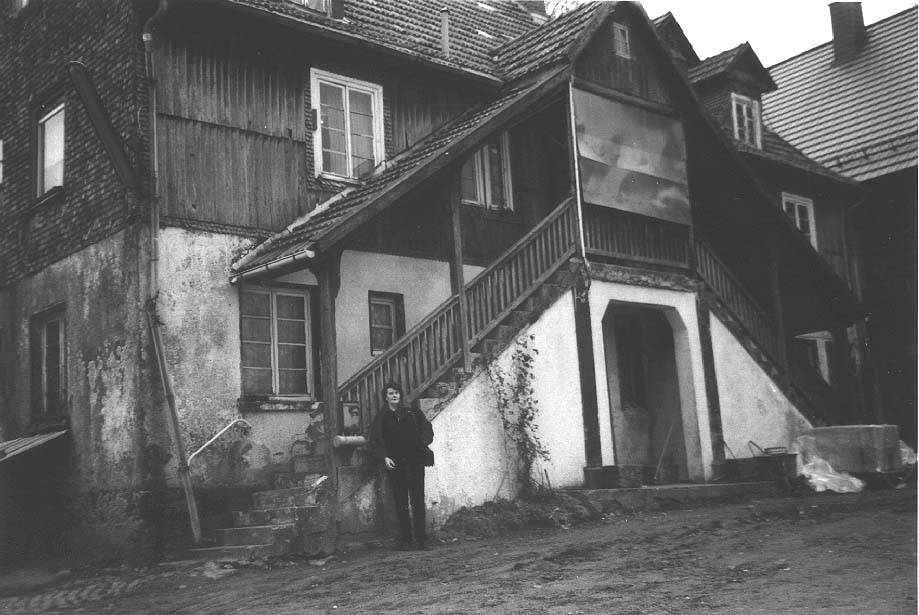 Elizabeth Bohlken-Zumpe in front of Rhoen Bruderhof's children's house, built 1928 - 1997
Dream Of A Young Man
by Hans Zumpe
My road led me into a lonesome area. Night was falling. I was very tired and found a resting place under a large oak tree that was split right down the middle by a stroke of lightning. When I awoke, the wind was blowing bitterly cold. A bright moon lit up the wide, disconsolate and bleak heather landscape before me.
It was lonesome as if I was the only living thing in the whole Universe. My body and soul felt chilled to the bone. Then I heard a voice coming from a far distance. As the voice came closer to where I stood, I realized that it was a man's voice and he was in deep sorrow, crying and sighing. Then I saw the mourner himself. His stature was tall but old and bent. He was limping, leaning heavily on his walkingstick with every troublesome step he took.
He walked right past me, without noticing my presence and I could hear his weeping voice repeating the same words again and again: "O, my son Absalom, O my son, my son Absalom! You have scattered and dispersed what I had gathered, confused what I loved, destroyed what I built! O, my son Absalom -- my son, my son!" His grief and sorrow were so deep that I did not dare to speak to him. He went on his way until his figure disappeared in the dark and I could no longer hear his sorrowful voice.
What I saw and heard I could not understand at that time, but a deep sadness filled my heart. Complete exhaustion took hold of me and I fell asleep again until the day broke and the sun stood high in the blue sky.
When I had this dream, I was but a young man. Now that I am an old man I understand the meaning of this dream.
Renatus Kluver, 4/19/99: Ramon, why don't you, quite simply, send JoeK an E-mail and tell him to ask C. M. Zimmerman why he, CMZ, does not print his letter and all that has been written dealing with the First, Middle and Last 'Law of Sannerz' in The Plough, of which he is the editor? Why does he need a forum towards which he is so hostile? Why does he not print all the legitimate complaints and concerns that have been raised and published in KIT in his Plough? Does he want to be heard through an information outlet that he claims is so totally foul and critically inept? He should be told that we have a standard in KIT submissions which does not allow foul language and virulent attacks on individuals, that KIT contributors would never sink to that level of depravity.
I don't think that the issue of whether or not The First Law of Sannerz exists matters to them. It is merely the fact that they think they have a legitimate reason to sling mud at Bette. Otherwise why should that other literary giant CMZ now join in the fray? Pathetic. And they want to be leaders of a Christian organisation. They are power brokers in a corporate organisation that will use any means at their disposal to pursue their very questionable aims. They still block people from visiting their relatives who have absolutely no contact with KIT, merely because of 'guilt by association,' because of contacts which these individuals have with others who contribute to KIT. They don't need a reason. If they don't have one, they will make one up. That's all for now,
Nadine Moonje Pleil, 4/14/99: I was very interested in David Goodwin's account about a visit he had from Wayne Shirkey and Randy Gauger (who must be a new member, a PR person for the Commune). It never ceases to amaze me how Commune people can accuse people who used to live in the Commune of spiritual pride because of the use of scripture. I want to congratulate David G. for the way he answered the accusation of spiritual pride.
I do not understand how Wayne dared to use bad language or a swear word in David G's house. He was cordially invited and then uses a swear word! Wayne, of all people, a former Brethren minister!
During all of the 40 years of having lived in the Commune, sharing my life and working with Commune members, did I ever hear one swear word, and this is the absolute truth. Now maybe someone might have thought a swear word and would have confessed to a Servant about that and then be forgiven. I am appalled to hear that young men and women, on leaving the Commune, use such bad language that it is hard to believe that they were brought up in the Commune.
It is ever more difficult for me to hear that a former Brethren minister used a swear word and at that, in another person's home and even say at the same time that the Commune believes that bad language should not be used. As I understand it, Randy even tried to defend what Wayne had said in some manner or another.
David's scripture quotes are to the point and I cannot understand why he should be accused of spiritual pride. Does the Commune think that only they are permitted to quote scripture and believe that they are not spiritually proud? I really would like an answer to this question. Are we lesser people in the eyes of the Commune, and are we as fellow human beings not allowed to quote scripture? Does the Commune believe that only they and their elders are permitted to quote scripture? Was the Bible not written for all people to read and quote? In God's eyes we are all equal, so does that not mean that we may all read the Bible and quote it if we so wish? Do we not all have freedom of speech? Or does the Commune believe that they are the Chosen Ones and only they have freedom of speech? This is a long-standing question for me since I was in my teens in the Commune.
Why, I ask, is it so difficult for the Commune to see that they too make mistakes? It is worrying to me that so many of the young people who leave the Commune use such very bad language. Some language they use is so bad that it is not possible to repeat and definitely not possible to write it down on paper!
When people have asked us about the Commune, I have always said that the moral upbringing of children was good. Can I still say that now? I wish that I could still say that. However, after reading about the language used in other people's homes and in articles (I even read something in The Plough, if I am not mistaken, by a Servant of the Weird that contained bad language. I am appalled, to say the least!
Should we not give our children a better example and also let other people whom we visit realize that we do not want to be known as people who use bad language. The long and short of this letter is that bad language should not be used either by mouth or on paper, and especially not by people who believe they should give witness to the wrongness of the use of such language.
Sincerely,
P.S. I remember when I once quoted scripture to a Servant of the Word, who is still in the Commune. I was told that I was spiritually proud. Well, I thought, apparently spiritual pride was only tolerated in Servants! It seemed/seems to me that only the Commune Servants can claim spiritual pride. Not that I want to claim spiritual pride...
Pauline Ellison Davies, 4/10/99: I was sad to hear about Buddug. The Bruderhof's treatment of her doesn't surprise me one bit. Let's face it, cruelty is their trademark. So what's new?
I remember when Gwyn and Buddug were in Wheathill living in the cottages below where the new dining room was built. At the time, there were pig sties there, and the dining room was an old corrugated iron Nissan hut with a gravel floor (handy for burying unwanted food). Gwyn and Buddug were our neighbors and we all enjoyed playing on the beautifully kept lawn in front of Gwyn's house. He took care of the gardens and had planted some lovely tulips that had just come into full bloom.
One day as we played on the lawn, my little two-year-old sister Freda presented me with some beautiful flowers. She had picked every single tulip head from Gwyn's precious garden. When we told Mum, she nearly died. But fortunately Gwyn was good-humored about it and laughed it off in his generous way.
Not long after I heard about KIT, we had a visit from Dick and Franzi Whitty. They stayed at my sister Monica's house and came for a meal with my at my house. We enjoyed their visit. They were so nice, and listened to what we had to say. I had a lovely letter from them after. They were quality people and will be missed. Soon there won't be any of those good, genuine folks left. There will only be the new generation, those who have never known how good life together could be. But from what I hear, they will still know about the dreaded ausschluss, as it is still alive and kicking as the letter from Deborah LeBlanc Herman confirms.
While I'm on the subject of quality people, I want to mention two more. I visited Darvell about the same time as I heard about KIT. Buddug was already having problems with her short-term memory, but knew who I was. Stanley Fletcher was still alive then, and I had a long talk with him. If only these other impostors could have just a small fragment of his humility and greatness. He was a wonderful person. We corresponded for a bit, but I couldn't burden this dear old man with all the painful truths. Anyway he already knew, but what could he do to change anything? He was powerless, just like the majority inside that prison of their own making. They can do nothing.
Then there was Alice Humphries, our old English teacher in Wheathill who died a couple of years ago in Darvell. They didn't even have the decency to inform Dieter Holz, her foster son, of her illness and death. When he eventually found out, she was already dead and buried. He has never written anything in KIT and visited Alice in Darvell regularly, so in their warped way of thinking they had no right to treat him so shamefully.
Dieter was a seven-year-old orphan when he came to Wheathill with his brothers Klaus and Jurgen and seven other orphans from Germany after the War. Alice and Owen took them all in as their own children, but as teenagers they were chucked out mercilessly along with everyone else, but without a family. The Bruderhof had taken them away from their sister and family in Germany as small children. Then, when it suited them, they dumped them out in the cold with no one. As Dieter worked in the same town as we lived, he was a frequent visitor in our home and we became a substitute family for him and other young displaced lads until they married and had families of their own. Unfortunately, his brother Jurgen died in a farming accident when his tractor tipped over. I'm not sure how old he was, but he was either in his late teens or early twenties.
After Alice's husband Owen died, she was persuaded to return to the cult for her retirement. She was severely crippled with arthritis and valued her independence, but in the end being cared for among friends was a better option than a lonely existence 'outside,' or alternatively going into a nursing home. Alice knew she would have to pay the price of her freedom. She would have to obey their rules and walk around in that outdated uniform as well, but she did not give up her freedom of choice. She chose to go back. Love to all,
click here to return to Table of Contents
Hilarion Braun to President Clinton, 10/16//98: Dear Mr. President, as you can see from my enclosed letter to CBS, I view the role of the press as a disaster, and am happy that you have not blasted the press.

All that can be done now is to wait for decent and wise voices to be heard, and not to forget that America's weakness lies in its penchant to react to propaganda more than to fact.

I had hoped that you would reverse our foreign policy regarding Cuba, and still hope that you will. It does not take a real genius to see that it is a policy designed by idiots, and that freeing Cuba would unseat Fidel. The same is true about Iraq. Does it always have to be a Republican right-winger like Nixon to reverse foreign policy decisions made by Republicans in a desperate attempt to look patriotic?

You still have a chance to do this during your last term, and remedy two situations no one else had the guts to address.

To CBS '60 Minutes, 10/13/98: The trashing of Clinton by Andy Rooney is at best pathetic and the act of a coward. You at CBS have done a terrible job in bringing us the 'news.' Instead of looking into the tactics of Kenneth Starr and exposing them so that the public may know how our tax dollars are spent, and how the Christian Coalition is using the tort system to feed the likes of Starr's illegally acquired sex trash, you trash Clinton, a man who was elected by us to be our president. We never had the chance to elect you as our journalists, nor did we have a chance to elect Starr.

Not to expose Starr and his story is a failing far greater than Clinton's failings. In contrast to Clinton's sexual activities, your journalistic failings do great harm to our democratic system that is now going through a Christopublic hysteria fueled by self-righteous prudery for which you have chosen to be the lynch mob.

Implicit in all that Rooney said is that other politicians have been honest and open about their private failings, and it is this journalistic trick that was used so successfully by Hitler and other lynch mob leaders that is the cornerstone of propaganda, not journalism.

The whole foundation of Starr's attack on Clinton rests on the implicit lie that Clinton perjured himself in the Paula Jones case in which he allegedly lied under oath on a subject not material to the investigation. Lying under oath is not perjury when the subject is not material to the investigation. There is a story well worth telling, and eventually, when someone has the guts to do it, it will be told.

12/25/98: One of the strange alarm systems a society has is the perversion of its language long before its cultural collapse. In the sixties when Vietnam was being bombed into surrender, all of the news media had strange ways of reporting "enemy dead" while depicting Cardinal Spellman blessing B 52's by sprinkling holy water on them. The separation of church and state dictum was apparently not important. Today the definition of perjury is not important as Republicans race to destroy Clinton, while the escalation of the use of the word 'unique' is unabated. I heard a Harvard professor claim that "A good product had not only to be the only one, but it also had to be unique!'

"John invited he and I to a party...' TIME magazine has a man on the phone on its cover with the headline: "Who is he talking to?" The examples are staggering. I've tried to come up with a sentence that would disgust even the most flagrant abusers of English, and here are some of my favorites: "The most unique woman I ever met in my entire life invited my brother and I out to a most unique, unforgettable dinner presently right now that I will never forget." "When I myself think independently, I come up with some real unique ideas in my head by thinking without letting facts distract me."

"As a child, early in life, while being an infant. my mother took I and my brother to the zoo where we saw our ancient ancestors that lived long before we were born and brought into the world." "Today I myself planted ungerminated tomatoes in a really unique soil while munching on fried unhatched chickens in my mouth when the telephone rang. I could not understand who they wanted so I myself, made a personal decision to ask the caller myself who he wanted to talk to."

It seems that the rigors of logic are, like rules of decency, too restrictive for modern man, and his language expresses this in redundant errors that hide the simplicity of the task of being Mensch. All of us see the task in different lights, but I believe one common thread is to serve each other and this tiny ecologically raped planet.

Nature revolted in many places, but man in his arrogance and stupidity has rushed ahead, making the garbage heaps into mountains on the foolish assumption that we will find a solution, given time. But the time we are so generously giving our garbage heaps will also see a huge population increase fueled by the belief that God will show us the way. For secular thinkers it is time; for the religious it is God that will save us from our wastefulness and greed.

I gave a talk at a recent conference on industrial recycling, and it seems that there are quite a few possibilities for making recycling a self-supporting business. However the consumer side is far more problematic, and yet consumers could reduce their waste quickly by being more sensitive. The separation programs are mostly a farce. Most of the waste, whether glass, paper or plastic, is all buried while the stuff that consists mostly of wasted food, etc.. is also buried.

The underlying assumption is that the consumer has fewer toxic wastes than the manufacturer or, if that is not true, the toxins are distributed over a large area and therefore more diluted than those of the manufacturer. In defense of the slow progress, one should remember that many toxic solvents are gradually being replaced by more benign substances. Also many of the toxins we use as insecticides are quite unstable and break down into harmless compounds. Obviously during the breakdown the toxin is actively destroying insects, etc.

In a real sense, our physical trash and waste has its spiritual counterpart. 'Political correctness' is a secular reaction to the strident voice of the religious right. In both cases, the simplicity of the symptoms of man's failure are easily pushed out of our consciousness by simplistic babble. I've often wondered whether the slaughter of the Jews during WW II has forced Christendom to seek distractions so as to avoid facing its responsibility, and once such avoidance is started, there is no end to it in terms of other crimes. Where were the Christians then... and where are they now?

The news media have by and large exploited the hysteria started by Whitehead and Starr, but the lawyers of this country are a most cowardly group. The more society perverts the law, the more lawyers will be able to earn, and when legislators are mostly lawyers a regenerative cycle is maintained that maximizes the spoils of the lawyers. Out of the many lawyers interviewed in the media, only a handful have defined perjury to show that the staging of Whitehead and Starr is a farce, and that Clinton did not commit perjury. It's also typically American to open a statement about Clinton with a denunciation of him. A similar pattern existed during the Vietnam war. It's a little like having the weatherman denounce bad weather before commenting on it.

The McCarthy era showed the same pattern: "I, as a good American, believe in America above all else, but..." This presentation of credentials as a prologue to criticism, as mild as it may be, is a peculiar way of saying, "I'm one of you... and therefore make this statement without offending any of us!' Why should a well-made argument offend even if one feels one has a better one contradicting the other? How do we learn? More and more evidence is being published about children and their development that shows that children follow their parents' example while almost consistently rebelling against their preaching. I think this is one of the reasons that religions have failed to be a positive force in history. The examples are contradictory to the sermons, and the examples are the source of knowledge.

One magnificent example of biblical clarity is Christ's command to his followers not to take oaths, and yet almost all Christians freely take oaths even though to do otherwise would cost them nothing. When I became a U.S. citizen, I refused to take the oath and the presiding judge told me I had to or else! Luckily his assistant brought documentation to show that no one can be compelled to take an oath. I find it odd that such a small symbol is so universally rejected by Christians when Christ felt otherwise.

I mention this only to demonstrate that some of the most clear or simple teachings are ignored in favor of obscure and convoluted pietism.

Another good example is the mistreatment of Mexicans in the Southwest of the U.S. The simple truth is that through chicanery and military might, the northern territories of Mexico were taken by the U.S., and instead of treating these lands as belonging to Mexicans and Native Americans, the Anglo fraction of the population is more hostile than friendly toward Mexicans. Again, the simple historical facts are being ignored in favor of obscure obsessions with Immigration and Naturalization Acts. We seem engulfed in a culture that rationalizes to such an extent that it can no longer reason.

Anyone who has watched Alan Greenspan will know how perfectly circular his arguments are and how much fun it would be to save his gems for introductory logic classes: 'The present growth of our economy and the instability of global markets make it clear that any change in fiscal policy at this time would be ill-advised, while keeping in mind that conditions could change, necessitating a review at a later date, assuming that our model predictions warrant the faith we have in their fundamentals." I made this up, but I think it is quite Greenspan-ish and as banal as one he would have created...

The best to everyone for 1999,

click here to return to Table of Contents

Paulo Allain, 4/23/99: The April newsletter was very interesting and refreshing. I especially appreciated Migg Fischli's story, so full of precise details which bring back so many of my memories. But by the end of his story I am in tears. How could such a beautiful movement as the Bruderhof of the sixties degenerate into the opposite of its basic tenets in such a short time. How was it possible that so many members (myself included) did not find ways to protest and hold back this wrong leadership? On thinking about this, I came across the following theme:

On Building Bridges

The greatest mistake in the Bruderhof way of thinking was the complete absence of building bridges to other and new ways of life. What I mean is that the Bruderhof philosophy took its absolute correctness for so certain that no space was given to the consideration: What if something goes wrong with our movement? How do we measure our rate of success? What are our benchmarks? How do we cope with a changing world? How do we adapt our mission to a changing world? How do we accommodate new trends and weave them into our philosophy? How do we provide alternative ways of experience for the young people who wish to try other ways of life? That is, how do we build bridges?

You see, our world view was that there is only one right way of life, and it is up to everybody, young or old, to simply adapt to this model. We did not understand that the experience of life is something individual for each one of us, and that we have to consider a whole network of lifestyles and experiences through which every one can choose his way, learn by chance and error, and come to sound conclusions. Our philosophy was that of somebody driving a car over a bridge, and suddenly realizing that the bridge had collapsed near the other end. There was no way of conveniently backing out of it.

Today I feel that this world view or philosophy was designed by Eberhard Arnold and cunningly made use of by Heini and Co. We had been so brainwashed that we did not think of rebelling or questioning the absurd decisions of selling the communities at junk prices. We had never heard of things like auditing the communities accounts or checking what was really going on between the "servants." The entire break-up in the sixties was medieval and could have been stalled by legal action, I think.

But we can still try and do our best to build new bridges for the network of our lives by opening up to the new realities and trying to understand our fellow men. This is precisely what our newsletter KIT is doing so diligently for so many years. KIT is a very effective way of building bridges. And the fact that JCA, JK & Co are so concerned about our KIT network is proof of their shortsightedness and tyrannical endeavors of enslaving the other community members into ignoring the existence of bridges.

In my opinion they are losing a tremendous input of quality of life thereby, because it is becoming increasingly difficult for any cult to remain isolated in a medieval world. And, they are not following Jesus' command of being the "light of the world". They are not holding up their light to shine so that everybody can see it, but are ashamed and hiding it behind the protection of dogs and legal action, as if such "protection" could be of any use.

Information has a way of seeping through very small cracks and carries a tremendous fascination which the young and intelligent members can hardly hold back. JC & Co are so afraid of information that they are planning to settle in the backyards of Australia. But information is spreading at an incredibly fast rate and will seep into Australia much faster than they can imagine. The fact is that our world has no safe place to hide anymore. And that is good, because the time has come for every human being to be able to access those roads and ways of life which he needs to reach maturity.

So my desire is for JC & Co to open up their mind and hearts and develop a friendly and Christian relationship with ex-members and allow them full visiting rights. Apart from being the only truly Christian attitude, it is also the most intelligent. It will provide a richness of experience and build new bridges which every one can feel free to cross over and come back. Members who have made the trip to and fro between community life and life "outside" are much more capable and dependable than those who have been limited to a single way of viewing things. There is a difference between somebody who is forced to do things right and somebody who, after living different situations, decides to do things right by his own free will. Loving greetings to all of you,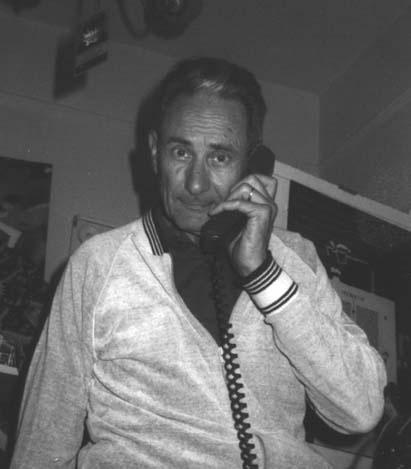 Paulo Allain visiting the Senders - 1997
Anon E. Mouse, 4/8/99: Who is a slave of Christ? It is all well and fine for an old hen house to roost a flock of natural generations. According to their pecking order, by nature they settle in every night. A batch of several broods hatched under lamps is already unnatural; high-rise caging accommodates them best. They are all slaves of man.
Human memory keeping long genealogies often has become an order of slavery and classism. To keep this order was an effort to keep rebellious spite in the lowest place. The nature of class and competition, tainted with spite and grudges, makes people very unnatural. The cycles of forces set up to protect property are as old as claims to a good name.
Patriarchy is not a bad claim. It was the children of Israel in Egypt who were liberated from slavery when (among ritual traditions) their family codes would not adjust to those of the Pharaoh. After liberation, laws of slavery were written so that it can be said a slave has more rights than a master.
Protestants in the USA have an abominable history of quoting New Testament out of context to justify slavery. The Abolition Movement had little effect in reuniting broken families. The "underground railroad" gave individuals an opportunity in free enterprise. That movement advocated its activities to the point of endangering the lives of those individuals.
American slavery has been an open discussion of abolitionists and their descendants. Cattle breeders keep records of sires by name. African slaves in the USA were studded out, children were sold and names change to the plantation master's name. Such total disregard for biblical statutes in respect to family relations and marriage laws resulted in a total breakdown of western society. Christianity did not abolish slavery. Our forefathers made such a mockery of the rights of slaves that since the Civil War chaos in family names is still the biggest weakness of these United States. Today, 'x' is the sign of the times in more ways than multiplication. Using the Mosaic Laws to define families can revive faith in the future.
click here to return to Table of Contents
------ alt.support bruderhof excerpts ------
Dave Goodwin, 3/15/99: Hello to all. A couple of months ago I posted the article "The Lord is Good," in which I summarized some of my beliefs as well as the goodness of God that I have experienced. Actually this article is an edited version of a previous article I had written in the fall of 1995 titled "Reflections on Christian Fellowship from the Perspective of my Bruderhof Background." That article was an attempt to open some dialogue with Bruderhof folks, some of who had asked me questions about how my church group addresses differences of opinion, and others who had hinted that they would like to know "where I stand" on some issues.
When my family had inquired about visiting the B'hof during the summer of 1995, one of my brothers had told me it would not suit at that time because they did not know where we stand regarding the B'hof. My article was an attempt to clearly explain my stand. In retrospect, it seems that they did not actually want to know where I stand, but only wanted me to agree with some of their stands which at that time I could not do and I still cannot do.
In that article I included specific events that had happened while I lived at New Meadow Run prior to 1981, as well as pointing out some Bruderhof practices that I now disagree with. I sent that article to about 35 former associates living at the bruder--hofs and about the same number of friends who are not living there. Although I did my best to be kind in what I wrote, the majority response from those at the Bruderhofs was "who do you think you are telling us how we should live our faith, and how can you disrespect your parents so?" (I only received 3 or 4 replies from them). Upon reflection, I started to feel quite bad at how I had miscommunicated and so I wrote a rather profuse apology in which I probably overstated myself.
After I apologized, several more Bruderhof folk wrote to say how "close" they felt, and how thankful they were that I could recognize my error and they hoped I would make a clean break with the devil, etc. While I was glad for the more friendly response, my final conclusion was that they still felt that I was very wrong, while they were very right. Soon after my apology Andreas Meier called me on the phone to say how glad he was for my response. It seemed he was trying his best to help me arrive at their point of view. I kindly explained that I was still very opposed to some of their corporate actions such as phone harassment of the COB phone number, and that it seemed to me that Wayne Chesley had been standing on the right side of things when he challenged this action and was dismissed from the brotherhood. Andreas said my position was one of trying to have a foot in each world (God's kingdom and Satan's kingdom presumably). He also said that although Wayne's challenge may have had some truth to it, it had been made in a wrong way. He told me, "We would rather all go wrong together. So long as we are together God can lead us back to the right together."
I can say without apology that I would rather stand alone for Jesus than go along with any group in any action that my conscience tells me is wrong. We often sang the song at the Bruderhof; "I have decided to follow Jesus". A verse that I only learned after leaving says: "Though none go with me, still I will follow, no turning back." By the grace of God I will endeavor to live this verse (as I believe all Christians should ). The context of my previous article may help to explain some of the points that I touched on such as church discipline and child raising. My article was not necessarily a list of what I consider the most important points of Christian faith and practice.
Mel Fros wrote: "But what if one believes the whole church is wrong on an important matter.? Your group, like ours, has solved the issue by asking several questions of prospective members, one of which relates to the giving and the receiving of admonition. It is hoped that issues of contention can be worked out........ This leads me to a topic of great interest: church discipline........ David, you go on to cast the practice of shunning in a very negative light. But isn't that perhaps what handing an errant believer over to Satan is all about?"
Yes, I do take a very dim view of shunning when it is practiced against someone who decided to leave (God may have been the one calling them to do so) the Amish, Bruderhof, Hutterites, Jehovah's Witnesses, etc., or any other group that has no effective mechanism allowing a member to leave with their blessing to follow God elsewhere. The same could be said of most other excommunications which are often performed for the rather nebulous sins of pride, individualism, unsubmissiveness, etc. For cases such as described in I Cor. 5, strict shunning may need to be practiced with the desire to see the person return to the Lord. Even then it should be done with kindness as instructed by Paul: "If any man obey not our word, note that man, and have no company with him. Yet count him not as an enemy, but admonish him as a brother." (2 Thes 3:14,15) As I stated before, my belief is that this action will not need to occur very often if ever in a properly functioning, healthy church body.
Another email I received from a newsgroup reader stated: I just wanted to say how much I appreciate what you write on the ASB group, and I realize how much you and others want to share and communicate... Anyway the only part I was very amazed at in your writing was the part about using the rod on small children. I suppose this is the attitude held by your group, and certainly I don't think kids or parents are happy if kids are spoilt, but the idea of using a rod on small children really horrified me, also because I love small children, and wouldn't think it necessary and it is usually only because one is in a hurry, and they are obstinate or something, but even Jesus said about small children "Of such is the kingdom of Heaven" and that is how I feel when I go shopping. To me they truly look like little angels with their wings fallen off. I trust that although that may be the philosophy of your group, that you wont feel the need to hit your small children with a rod, and that you might rethink this whole attitude, looking at Christ's words rather than the old testament.
I am very glad for these comments. And even though I agree strongly with much of it my conclusion is not quite the same. My response is that children like adults and even much more so, should be disciplined with all due love and care. My earlier comments about spanking with a rod (we use a light flat stick) were at least in part my response to Plough publications which said in effect that spanking (corporal punishment) is only necessary because of the adult's sins. I do not disagree that adult's sins add to the problems of discipline. But I disagree quite fundamentally with that stated position because as proverb says "foolishness is bound in the heart of a child" (Prov 22:15). Nothing has changed about this fact between the Old and New Testament eras. It works wonders to follow the instruction to use "the rod" in a loving context.
We endeavor to never spank in a spirit of anger or impatience, and always take as much time as necessary after a spanking to talk the problem through with the child until their childlike freedom is restored. This takes extra time to hold and comfort, maybe even cry with them, and always pray with them. We pray that God would help us all to obey his commands and love each other as we should.
It usually takes about three minutes until they are forgiven and the whole problem is completely gone. It sometimes takes a bit longer but even 15 minutes is short compared to three months of ausschluss . My comments on this subject were given as a corrective to the position that sitting in a locker or room for a few hours "to think things over" is a more loving way to deal with a young child.
I recall young children (3rd or 4th grade at NMR) who were out of their groups for months at a time and finally sent to public school with no friends from home. I firmly believe a spank and a hug and a prayer (and more prayer) would have been a much better solution to what ever the problem may have been.
May the peace of God rule in all hearts.
No Man Is An Island
by Dave Goodwin (3/15/99)
A few weeks ago I posted a follow-up to my article 'The Lord is Good' in which I mentioned a phone conversation I had with Andreas Meier in November 1995. That phone call was very instructive to me, and some of the things I learned may be of interest to others here as well.
First of all I wish to say I appreciate many memories of Andreas, and the much sound teaching I learned from him. I remember him challenging us with the good question that all Christians need to ask themselves daily, "would you be glad to find that Jesus is standing next to you in what ever you are involved in at the moment?" Every time I hear such a question I remember those times when Andreas was my teacher. He was also a good friend and neighbor for many years. I was close friends with his sons. After a careless tractor trailer driver rammed the back of the Ford Pinto I was driving, sending me across oncoming traffic lanes and into a snow bank, Andreas stopped to ask how I was doing and offer some kind reassurance. We lived at the same Bruderhof together for over 15 years and the majority of my memories of him and the Meier family are nothing but good. The more recent phone calls I had with Andreas cannot erase those fond memories, however they did cause me great sadness when I realized the size of the gulf between our beliefs on the vitally important issues of how Christians should relate to friends, acquaintances, or enemies.
I am not interested on becoming an island entire to myself, nor in getting onto a group island were I could not freely defend or associate with others in the family of God. I am content to remain in the ocean of God's love where there should be no thought for climbing ashore. In this ocean I am perfectly free to defend as a brother and friend everyone including Andreas, all Bruderhof folk, and all the rest of us "fish in the sea".
Andreas called me soon after I had sent a letter apologizing for things I had written that they felt were very judgmental, proud, and out of order. Our phone conversation covered the following points more or less. These notes are from memory and not necessarily in the order of the discussion or the exact things that were said, but these are the things that stuck in my memory afterwards.
He said how glad he was for my letter of apology and that he hoped I could make a clean break with their enemies.
I said I can gladly commit myself not participating in malicious or unkind actions toward them, but I could not agree to avoiding people whom Jesus came to seek and to save. In general this includes everyone in the world, and specifically those whom I am acquainted with and talk with from time to time.
He said that light and darkness have nothing to do with each other and if I wish to associate with them then I have to have no dealings with "KIT people".
I told him I did not receive or read KIT newsletter and if that was not sufficient for me to be on good terms with them, then I would need a list from them of all people that they did not want me to associate with. I figured I could have perhaps agreed to not purposefully associating with people who were not in close contact with me at the time anyway. Off the top of my head I could not think of any so called critical "KIT folk" who I associated with to any degree.
He said that they do not have such a list to give me, and that in general the list would include anyone who I knew received the KIT newsletter, or anyone with a "critical spirit" about the Bruderhof.
I told him that some of the strongest criticisms about them that I have heard have come from people within the church groups I am associated with, because they are not shy to draw Biblical parallels. I have heard Bruderhof parents compared to those who sacrifice their children to Molech, as a comparison of how children have sometimes been completely cut off from parental support or contact after leaving. I told him most of the people I know are not afraid to raise this kind of strong comparison because they are free to be honest with each other and not because they have anything against the Bruderhof. I also told him I have on many occasions defended the Bruderhof when I heard what I considered to be unfair things said about them. I asked if I could associate with my own family members if they received the KIT newsletter, and still be on visiting terms with folks at the Bruderhof.
He said I would have to tell those in my family to decide between KIT, or us being able to visit them. He also said my position was one of trying to have a foot in each world (God's kingdom and Satan's kingdom presumably), because I was trying to find a middle ground between light and darkness.
Up until this point, I had been thinking that the best choice for my family's sake might be to agree not to associate with those so called misguided "KIT folk" if Andreas could clearly tell me who they were, since I had little or nothing to do with most of them anyway. When he told me it would include family members, I quickly told him I didn't need to consider the matter any farther, because I have family members out here who appreciate and value our mutual friendship and support and it didn't seem that my Bruderhof folks need anything from us and don't seem to have much real interest in contact with us either. I told him at that point it seemed quite clear to me what Jesus would do in such a case; that is to continue to talk to and associate with those who valued his teaching and friendship and not try to force anything on those who do not. This would have been a much harder conclusion to arrive at if my mother had still been alive. (Since that phone call I have had a much greater understanding and sympathy for those who have had to come to this conclusion while being cut off from living parents.)
I told him that to follow this line of reasoning to its logical conclusion, I would need to leave my present church because I have heard strong criticisms there. I would need to leave my wife and in-laws for the same reason. Ditto for almost everyone else who I have talked with about the Bruderhof in any substantive way. I would have two options left: join them or become a complete hermit.
I also kindly explained that I was still very opposed to some of their corporate actions such as phone harassment of the COB phone number, and that it seemed to me that Wayne Chesley had been standing on the right side of things when he challenged this action and was dismissed from the brotherhood.
He also said that although Wayne's challenge may have had some truth to it, that a right thing can be done in a wrong way, and that this must have been the case with Wayne. He said that "we would rather we all go wrong together, because so long as we are together God can lead us back to the right together."
After this statement I was so astonished that the next few things he said missed my attention completely. Our conversation ended very soon after that with him saying "greet your family", and I may have told him to do the same for all I know.
From the start of our talk it had seemed he was trying his best to help me arrive at their point of view. Obviously I was trying my best to get him to see my point of view better also. I felt like I was quite willing to bend some in my viewpoint until I sensed that he was not going to move one inch. At that point I probably became stubbornly determined not to give in one inch either to what seemed like nonsensical theology about "all going wrong together" being right. I don't know why that amazed me so much because I'm sure I have heard such sentiments before in some form, but that must have been a long time ago and possibly when I partly believed it myself.
Enough for now on that subject. God is still on his throne and His arm is in no way shortened. He can do His work when and where He chooses, and in the hearts of anyone who allows Him to. I wish to accept His call to repent in all areas of life including my thoughts about this phone call if they are not right. Let us pray that the love of Christ will help us all to scale the walls that divide men from God and each other, and may we all end up on a higher plane after we have scaled those heights.
All the Best,
Lord, lift me up and let me stand / By grace on heaven's tableland / A higher plane than I have found, / Lord, plant my feet on higher ground.
Betty Chesley to Dave Goodwin, in alt.support.bruderhof, 3/15/99: It is sadly amazing to learn from so many about the control that the Bruderhof has exerted or attempts to exert over family relationships. There are too many stories like yours -- and worse -- where there should be none to tell at all.
What memories were triggered by your writing about [my husband] Wayne's protesting against the phone call harassment campaign! Those were such days of turmoil for us -- I was "convinced" (by not a few people) that Wayne was spiritually proud and legalistic but what was it that he really did? What sin was he guilty of? Andreas Meier was not at the brotherhood meeting when Wayne was put out -- but I was.
When the phone call campaign was presented to the whole Catskill brotherhood, it was presented with a chance for a hand-picked number of brothers who had refused it the night before to repent of that transgression.
Wayne very quietly stood up and asked "Brothers, what does the Scripture say about how we are to treat our enemies? What did Jesus tell us to do?" The answer, of course, is to love them. The answer that Wayne got most vehemently from another Servant was that "We are not doing this the Mennonite way or the Brethren way but our way!" Presumably, the referral to those other groups was to our own Old order inclinations and nonresistance, as we had already been discussing some concerns with that Servant about violent play among some of the children. Granted, my memory may omit a few words here and there but I remember the gist of it all very well.
Wayne was not loud, proud, or legalistic. But there was already a pre-set agenda that those phone calls would be made and it would be instigated by whipping the brotherhood into a "we've-got-to-protect-our-life-and-children" frenzy with no attention to the fact that a Christian's best weapons in any "battle" are on his knees in prayer. I believe that there wasn't even a real "battle" here -- just a bunch of well-intentioned people and believing Christians who ended up being bullied by the Bruderhof's actions.
Dave wrote: "I kindly explained that I was still very opposed to some of their corporate actions such as phone harassment of the COB phone number, and that it seemed to me that Wayne Chesley had been standing on the right side of things when he challenged this action and was dismissed from the brotherhood. Andreas said my position was one of trying to have a foot in each world (God's kingdom and Satan's kingdom presumably). He also said that although Wayne's challenge may have had some truth to it, it had been made in a wrong way. He told me, "We would rather all go wrong together. So long as we are together God can lead us back to the right together."
Wayne's manner couldn't have been any gentler, but it did not suit the plans for the phone call campaign and the accusations against him were a convenient way to move a dissenting voice out of the brotherhood. I wished that I had seen it then and really stood next to him.
Andreas' comment about being wrong together is simply unScriptural yet it is typical Bruderhof-speak. It is also what Bruderhof people directly told Wayne in the weeks following his removal from the Brotherhood. What is borne out in the Scriptures is that God will lead to the right any who truly seek and follow Him. There is no stipulation that all must err and repent together.
You write: "I can say without apology that I would rather stand alone for Jesus than go along with any group in any action that my conscience tells me is wrong."
Amen and again! You also write:
"Another email I received from a newsgroup reader stated: I just wanted to say how much I appreciate what you write on the ASB group, and I realize how much you and others want to share and communicate..."
David, Wayne and I very much appreciate your gentle and uncompromising faith and your concern for those affected by and within the Bruderhof.
"May the peace of God rule in all hearts."
Truly! That is our prayer as well. Blessings to you and yours,
-------- end alt.support.bruderhof --------
click here to return to Table of Contents
Camp Allegheny
by Dave Goodwin, 4/99
In the summers of 1970 and 1971, school groups from New Meadow Run made two memorable camping trips to Allegheny National Forest in northern Pennsylvania. I was reminded of the first trip in particular after reading Migg Fischli's most fascinating account of the pioneering days in Paraguay. Our adventures were of far less significance to be sure, but I am sure that most of us who went on those trips have vivid and fond memories. The Allegheny Reservoir was completed in the late 60s, creating one of Pennsylvania's largest man-made impoundments stretching roughly 40 miles through PA and NY states. The surrounding National Forest was open to primitive camping with most of the shoreline showing very little evidence of human activity due to the newness of the lake and the relative remoteness of the area.
The first of these trips included the fourth through eighth grades with a total of 22 youngsters with 7 adult chaperones. I was a ten-year-old fourth grader at the time. We set off well before dawn to make the five-hour trip along winding western PA roads past forests, steel works, smelly paper mills and more forests and farms. We traveled by bus with supplies and us inside and boats and more supplies on the roof rack. We put our four boats in at Wolf Run Marina, near the southern end of the lake, along State Route 59 where it crosses the Kinzua Creek branch of the lake. Our boats were homemade wooden crafts about 15 feet long with room for seven or eight people each. We used paddles to propel these crafts although one boat was equipped with a motor mount for a small outboard motor for hauling supplies or emergency use.
After preparing our boats for the trip we set off up the lake. Most of the large supplies stayed behind for a second trip because there was not enough room in the boats for so much cargo. We paddled our way with due enthusiasm for about three miles north along the main lake and then turned east into the Sugar Run Bay for another mile or two. The Sugar Run Bay is a sizable branch of the lake with several smaller side inlets fed by cool forest creeks. We set up camp at the head of one of these inlets, several hundred feet back from the lake on the mossy fern covered flats along the creek. We spread ferns out underneath our tent sheets to make the sleeping bags more comfortable. This spot still comes to mind every time I smell fresh summer ferns.
As mentioned we were far from the amenities of modern camping. One of the first jobs some of the boys did was to construct the "outhouses." We dug holes and then constructed a frame of two inch branches lashed together with twine to make a seat. A taller frame about six feet high held a tarp to form the walls. Some paper and a can of lime powder completed the set-up. While camp was being set up, a few of the older boys had gone back for the supplies with one of the men. For that trip they used the outboard motor and strung three or so of the boats together with rope to form a caravan. The whole outfit could chug along at about five or six mph. One person had to sit at the tail end to provide some steering control with a paddle.
They loaded the supplies and started back for camp. By this time the afternoon wind was driving the main lake into sizable swells. The boats were loaded well with supplies for four days of camping and because of the large waves, they were taking on some water. There were even some white caps according to the reports we heard later. Robbie Rimes was at the rear steering. Without much warning the middle and last boat had taken on enough water to become unstable. They soon had rolled over dumping all their contents into the deep water. Robbie swam ashore, which was a few hundred feet away, while the boat driver pulled alongshore to pick him up and correct the capsized boats. They motored around picking up all the floatables; lard cans, oranges, sleeping bags, etc. Much of the important camping gear was gone; axes, pots, pans, plates, silverware, along with things of more questionable importance such as fishing rods and tackle.
When the supply party came straggling back to camp with their tales of excitement, we soon realized we were really in for some primitive camping, as it was too late in the day to return to civilization for any more supplies. We scampered around and got flat rocks from the creek to make plates and pans. Carved sticks soon were made into various utensils and tent pegs and the like. Us younger ones were quite enjoying the whole challenge, but some of the older boys were much put out about losing their fishing gear, which in our economy would not be replaced merely because they wanted it. The next day some one did return to buy some supplies such as paper plates, utensils and food, but for the rest of that trip we made do with less than usual and I think it is safe to say it was the best camping trip many of us will remember.
I'm sure this all pales in comparison to the Paraguay pioneering, with all the hardships of travel, tropics, infants, separation from wives and husbands and other loved ones, war back in the homeland, no returning to buy missed supplies, and many more hardships which I am sure far outlasted the excitement phase. Nevertheless, for those of us who grew up in our more secure conditions, this is the best pioneering story we remember and it was a good lesson in making the best of a situation by "pulling together and pitching in." Now if we can yet find a way to accomplish this with the Serbs and Albanians, the Irish Catholics and Protestants, the Israelis and Palestinians, African ethnic factions, Indian and Indonesian religious rioters, and last and perhaps least with Bruderhof ins and outs then let's go for it. With God all things can be.
"Therefore endure hardness as a good soldier of Jesus Christ." (2Tim 2:3)
click here to return to Table of Contents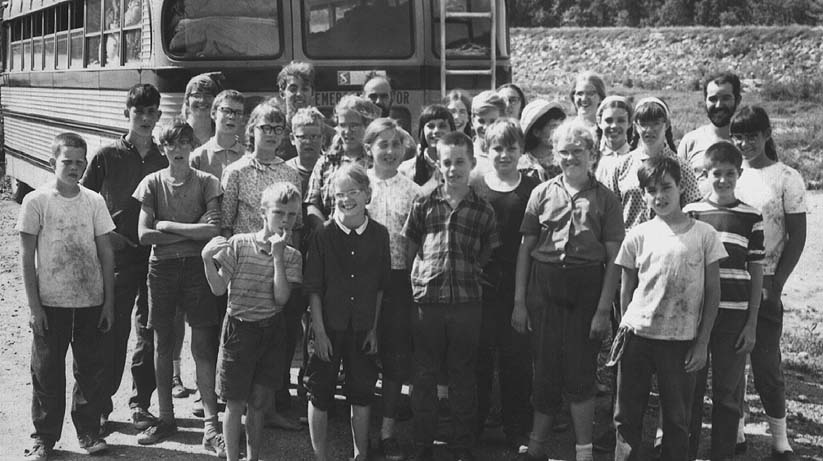 Happy campers photo taken at the end of the camping trip - 1970
Art Rosenblum, 4/3/99: When I joined the Bruderhof, I was very young and did not have the courage to speak out when I saw corrections that were needed. Well, actually I did speak out to Bruce Sumner once. But I gave in out of fear and pretended to agree with him. Now I can recall that very clearly.
I told Bruce things should be "freer in the youth". He said, "freer in what way?".
A: "Oh that we could talk about things more freely"
B: "What sort of things?"
A: "Well, anything"
B: "You mean even about sex?"
A: "Yes, even about sex"
B: "Haven't you ever experienced that if a boy and girl talk about sex it could bring them into temptation?"
A: Yes. I experienced that once."
B: "Well, don't you see that's just not possible!"
At that point I gave up and decided that if I did not act "humble" and accept Bruce's views, I'd soon be asked to leave the community. Fearful, I decided that I better wait till I got in the brotherhood and could get married, and then I'd share it with my wife and together we'd find a way to bring it up more safely.
No such luck. I was single and celibate those 17 years. Actually I forgot the instance entirely until after I left and a brother from Reba Place Fellowship, Virgil Vogt, heard my life story and said he sensed a dishonesty. He prayed that God would show me what it was by morning and, sure enough, I recalled it all on awakening. When I asked the Bruderhof to return and clear up my dishonesty but said I might not stay, they told me I was "not ready to return," so I shared it all in a letter to which I recall no clear response.
Well, now I find myself back in a community again and it is a little like the Bruderhof, although a much more beautiful location in Washington state. We have about 60 people here and things are not free of dogmatism at all. However, I find myself totally free to talk to anyone about anything at all, with no fear of being sent away.
One does have to observe a certain humility, however, but that's probably a good thing. Humility was never my strong point. The wonderful thing here is that I'm free to do my research on a positive future for the earth which is going better than ever with the connections I've found here. You can learn a lot more about it from the website my son Joel (14) put up. Our recent newsletters are all there and the address is: www.ic.org/aq.
Well, now Judy is leaving in two months for a summer in Philadelphia, and Joel will go with her, leaving me all alone in a 24-ft-diameter yurt, which will surely be great all summer. Except I really would like some companionship. Any who wish might also stay on when Judy returns.
Love Israel Family is not totally communal, but very cooperative. We're getting ready for our annual "Garlick Festival" to which as many as 15,000 people come. I'm also working on getting a low power FM radio station going for the teenagers in the nearby town of Arlington, WA, and could use some help with that.
Just as when I first arrived in Primavera in 1948, they had not had any new people join for about 8 years, and the same applies here. I'm not really expecting to join the Family, but will surely stay here through Y2K and into 2000 and see what happens then. My hope is that some others, possibly any old bruderhofers who still long for communal life, communal singing, etc., might also join me here. I can have anyone I like here as my guest anytime.
Of course, in a single 24-ft.-diameter yurt there's not too much privacy, but we do have a warm, curtained washroom section and a high double-bunk bed with an air mattress.
We also have almost free long distance so if anyone would like to call me, I can call right back anytime and we can talk. My own phone (not allowed on the Bruderhof) is (360) 403-9593 and you can call anytime but remember we're on Pacific Daylight Time here. It's still my hope that some readers still believe in living together and would even like to be closer than we could ever be on the Bruderhof. My work is also to connect this community with some other communities so that things begin to broaden out a bit. For that reason, some ex-bd'hfers would be more than welcome.
Peace and love, Art Rosenblum, Aquarian Research Foundation, 14724 184th NE, Arlington, WA 98223 (360) 403-9593 or visit: www.ic. org/aq for latest info. and newsletters.

Living With The Elements

by Hans Zimmermann, 4/20/99

Sometimes it requires the aid of others to jolt your memory and trigger your brain to recall events from years long ago. However, there was one trip I have never forgotten and it has remained vivid in my mind until this day. So it came as no big surprise when on two different occasions participants of this trip reminded me of this event. So maybe it's worth sharing again

It was late summer of 1954, possibly 1955, when the teachers told the older school boys of Loma Hoby that they had planned a trip for us to go and explore Monte Jaime. The forest of Monte Jaime was the farthest point from Loma Hoby, the other side of the swampy Campo Invernada. Stories of wild cattle, cattle rustlers, herds of wild aggressive pigs, (Tayicatys) and jaguars abounded. Needless to say we were all excited and may I say felt a twinge of fear?

But fear not, the adults leading the trip were Jere Bruner, Bob Peck and, to everyone's comfort, the bushwacker Herman Pleil, commonly referred to as 'Hau,' the experienced hunter, trapper and fisherman who had been there on numerous occasions while working in the cattle department or Estancia as we preferred to call it. Every person was equipped with a poncho or a blanket which was to be their bedding. In addition we either carried a machete and/or our big knives. The provisions and a large pot and frying pan were packed into saddle bags and loaded on the school horse Chico. This horse was acquired from a Paraguayan patient of our hospital in lieu of money payment for his large hospital bill.

We left late Saturday morning, every one on foot, with one person leading the heavily loaded horse Chico and others walking in front or behind. We took the footpath through the woods to Ibate, then down to Campo Carapei. We walked the length of campo Carapei to Campo Invernada following the old wagon and alzaprima road to the river Tapiracuay. It was wet and muddy. Luckily it wasn't too hot because the sky was overcast. When we reached Campo Invernada, we were walking ankle-deep in water, and I wondered how soft the footing would be crossing over to Monte Jaime, which now lay on the other side of this swamp. We formed a single line, Hau taking the point as we pushed through the high saw grass and variety of swamp weeds and plants, many with red or yellow flowers. By the time we were in the middle of the campo, the water was close to our knees and we were walking on decaying vegetation which acted like a mat under our feet, so we made good progress. The horse Chico had a terrible time. With his small hoofs and a heavy load, he broke through the matting and struggled to make headway. Horses hate to sink into soft soil. One can see the fear in their eyes. Just before reaching the higher ground of the forest, we had to wade hip-deep through the Ihu Creek and we had to carry some of the provisions on our heads to prevent them from getting wet, as the horse Chico was indeed chico (small).

Finally we were on dry land again as we walked up the old overgrown logging road that Roger Allain wrote about in his book, pushing through the Caraguatas into the forest. We took a well-deserved break. By now we must have been close to three hours on the road, if we should call it that. We still had a long way ahead, as Hau planned to take us to the other side of Monte Jaime where the river Tapiracuay was open and we could fish and swim.

After a short rest, we were eager to push on but also a little apprehensive. At one point in the woods, Hau showed us a spot were they had surprised cattle rustlers having a barbecue. On their approach the cattle thieves disappeared into the deep forest. Because of so much wild cattle in the forest the underbrush was very thin and it was not too difficult to make progress. We saw tracks of tapirs, deer and wild pigs, however these were peccaries and not Tayicatys, so we did not need to be afraid. Soon the path dipped again as we were about to exit on to the first large potrero. We were going to follow east along the length of the potrero. The grass was very high and the ground uneven with what seemed to be large wide mounds pockmarked with armadillo holes, and water standing in between the high spots. As we progressed east, the ground became more level and the type of grass changed. Because it was now only waist high, walking became much easier.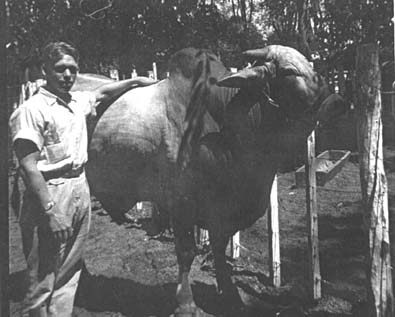 Hans Zimmermann with Manuel Ferreira's brahman bull - Asuncion 1960

It seemed a long time before we reached the end and entered the forest again. Here the forest was at the same !eve! as the potrero, with the ground muddy and wet. Only about 200 yards further we emerged again onto the second potrero. We kept to the right, following the edge of the forest. Circling a small wooded island, we could see a break in the forest leading to the swamp on the other side where the river Tapiracuay followed the south side of Monte Jaime. Hau led us through this gap and then took us to the left and back into the woods as the river Tapiracuay wasn't too far from there. As we walked through that gap, we could look along the edge of the forest on the south side of Monte Jaime and I was amazed at the large number of Pindo palms growing in that area. We did not have to go very far to a spot where the forest jutted into the swamp and a short open stretch of water along the edge of the trees. Hau announced that we had reached our destination and would set up camp. We found an ideal spot, a few trees with a dense canopy that had kept underbrush to a minimum. The spot was well above water level on high ground, so we cleared a large area of small bushes and prepared to settle down. However, now there was something else we had to deal with. The clouds had thickened and hung like lead in the sky and it would be only a matter of time before rain and a thunderstorm would break out.

Hau took command. He said the first thing we needed to do was to build a hut. We needed to cut down some small trees for poles, find some Isype Moroti (white vines) which we would use as tying rope, and get some Pindo palm fronds to cover the hut. The Isype Moroti is like a rope. It has a lot of fiber and when splitting it down the middle and tearing it apart, the interior is of a white color, hence the name Moroti (white).

We had brought two axes along and went to work as fast as possible. It was already late afternoon and with an over cast sky, darkness would set in soon. We had a choice to chop down the palm trees or climb up and cut the fronds. I hated the idea of cutting down a palm tree just for the fronds, so up I climbed as I had so many times before. Climbing a palm tree and then hoisting yourself into the crown is rather risky. First you shimmy up the trunk. Then once you have reached the base of the crown, you first have to test the dead fronds for strength, tearing off the rotten ones before reaching for the base of the green ones. Now you have to swing yourself into the crown, which means you have to let go of the trunk. You hang in mid-air holding on to the base of the fronds, which are held together with a tight web of fibers.

Once you have pulled yourself into the crown you can stand up, holding on to the new center leaves, and safely cut off all the mature fronds. The maneuver of getting down is even more risky. You first have to lower yourself out of the crown. With legs dangling in mid-air, you fish for the trunk. Once your legs are wrapped around the trunk, you cautiously let go with one hand. Once you have that hand around the trunk, you can let go with the other one, and slowly start your descent. If you go too fast, you'll get skin burns or, depending on the texture of the trunk, splinters.

I climbed two palm trees and Robin Caine climbed another one. This provided us with enough fronds to thatch the hut. We either split the fronds down the middle or we broke the individual leaves so they formed long sheets up to eight feet long that now could be tied onto the roof poles of the hut. Within one hour or less, we had a nice shelter to protect our gear and provisions but not large enough to shelter all of us if we wanted to lie down. Another party had collected a big pile of dry wood and branches so we had ample supply of firewood for the evening. The weather started to threaten with thunder and lightning not too far away, but it wasn't raining yet. The adults started to prepare a quick meal while some of us boys wanted to go for a swim.

There was no clean shore line, the water's edge muddy and the bottom thick with decaying leaves, with no strong current to keep a clean bottom. But just taking a short swim, getting wet and cleaned up was enough. By now we were starving and would eat anything. It had grown dark, and dinner would be ready very soon. We walked along the water shining the flashlight into the water looking for fish. Sure enough, some big catfish were swimming around but they were in deep water and we could not get at them with the machete. It was now thundering and lightning continuously with a few drops of rain starting to fall. We barely managed to finish our meal when all hell broke loose. It started to pour and the time from one lightning flash to the next only seconds apart. Each flash seemed hang in the air for several seconds, to be followed by horrendous thunder claps. We all huddled in our little hut, either sitting or standing, hoping to wait out the storm. There wasn't much wind and this rain and electrical storm seemed to remain stationary right over our heads.

click here to return to Table of Contents

The adults kept us busy telling stories. I can't recall how long we were huddled together in the hut, but the storm just would not stop and we were getting very tired and wanted to sleep. Finally the rain subsided. However the lightning and thunder continued, a common feature in that part of the world. We grasped that moment to prepare our bed for the night, some around the fire, others under the trees nearby. Each person was on his own and prepared a bed of his choice. Some scraped a shallow depression into the soft soil, covering it with part of the blanket and then pulled the other part over them. Others literally just dropped where they were, rolled into their ponchos and that would do. Myself, as fussy as always, first went into the surrounding bushes, cut off a bunch of leafy branches and spread them over the ground. This way I would not have direct contact with the wet ground. Now I just pulled the poncho over my head to fend off mosquitoes and was asleep in no time. Three or four persons were able to sleep in the hut with the provisions hanging safely from the rafters. Among the persons in the hut was David Caine who had an asthma problem. Bob Peck would watch over him during the night and, sure enough, David had one of his attacks and needed help with his breathing appears. I don't remember who the other hut dwellers were, nor did I care, I was content being in the open.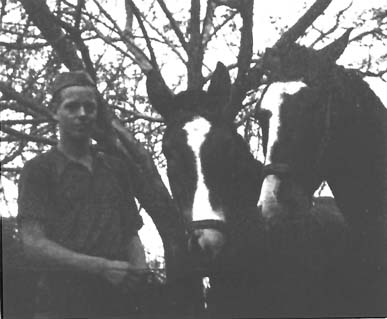 David Chatterton with Prince and Stripe in Primavera - 1959(?)

I could not have slept very long when I woke up again because the storm broke out with renewed fury. The rain came down in buckets while the lightning and thunder seemed to have regained extra energy. I was too tired to get up, while at the same time fascinated by the nature's fury and the spectacle of the lightning all around us. Lying there with the rain pouring down in torrents was like being under a shower head. Luckily it was rather warm so I did not feel too cold. The water ran off my body and the branches served as an insulation from the ground, so I was not lying in a puddle of water. To my amazement, everyone else also just stayed put wherever they had decided to bed down. Either they were too tired or maybe were enjoying the show. The rain kept coming, so I kept the poncho over my face listening to the rain and thunder. Soon I was a sleep again and did not wake up again until daylight the next morning.

The rain had stopped. However everything was dripping wet and so were we, especially those of us who had dug their little shallow ditches to sleep in. They had to wash the mud off their blankets. Someone had gotten the fire started again. We piled on more wood and stood as close as possible to dry the wet clothes on our body while discussing the events of the night and how we survived. After that night, thunderstorms just never seemed that scary anymore. The air was still pregnant with moisture and humidity, while a light wind shook showers of droplets from the trees.

In retrospect, this whole trip seemed to have been rather over-ambitious. We had one day to get there and the following day to return. We were not clued in on the travel plan and what the objectives were. Returning the same way we came would have been shorter, but with all the heavy rain, Campo Invernada probably was inundated and we might have been chest-deep in water crossing it. Hau decided we should bush-whack through the woods all the way to the fence on our eastern border, following the southern edge of Monte Jaime and staying on high ground. Unfortunately this was also the densest part of the forest because the cattle did not frequent it as much since they could not enter the swamp. We had to hack a path so that the horse could be led through, which made the going very slow. When we finally reached the fence, we turned left and north with the objective of exiting Monte Jaime on upper Campo Invernada which was not as swampy as closer to the river Tapiracuay. Now the going was much easier because the cattle had cleared much of the underbrush and a cow path followed along the fence,

It was early afternoon before we reached Campo Invernada. We took a short break before crossing the campo where the water was knee-deep after first getting wet again crossing the Ihu. We reached Monte Isla Guazu and had to pick up our pace to make it through the wood before darkness set in. I cannot recall all the details, except that it took a long time to make it through the forest. We exited the wood near our border watch man Laureano and faced our biggest obstacle on Campo Dolores. With all the heavy rain, the old Rutenberg canal was a raging river of muddy water. We reached it just before dusk and had to find a safe way to cross it. The canal was anywhere from 20 to 30 feet wide and being full, close to 10 feet deep.

Hau found a spot which was only about 25 feet wide with healthy guava bushes on both edges. We had a long soveo (a twisted leather rope) with us. Hau jumped into the water holding one end and managed to swim across after first being carried downstream, one of us running along the side holding the rope. Hau made it across safely and tied the soveo to the guava bush, the other end secured to the bush on our side. Now we could cross one by one, pulling ourselves hand over hand through the raging muddy water. We not only got wet again but nice and dirty.

With another long rope we pulled the horse across, and he needed all the help we could give him by pulling from the other side. The crossing went quite fast but by now it was nearly dark. The terrain was now more familiar and while still wet and muddy, we could move much faster. Loma Hoby however, was still many miles away. The sky was still overcast so it was quite dark, even on the open campo -- and we still had to cross most of Campo Dolores, past Monte Octavian, the branding corral, then over Campo Riveros Que to Isla Margarita and then to Loma Hoby. I cannot remember anything after crossing the canal. We were wet and dead tired, so during the rest of the trip I must have been in a stupor as if walking in my sleep. We got home to Loma around 10 at night and for all I know, we just crashed.

After a good night's sleep we were raring to go again, just gushing with excitement about our trip and all the adventures we experienced. We also gained a lot of respect for each other. I cannot recall anyone complaining about the weather or the difficult conditions or being scared witless during the raging rain and lightning storm. You may well call it "baptism by fire," and all survived it admirably.

click here to return to Table of Contents

Book review of Johann Christoph's newest book Drained

by Elizabeth Bohlken Zumpe 4/20/99

A few days ago I received a personal letter from my cousin J. C Arnold together with his newest book with the title Drained. Actually it is a "booklet" of some 134 spaciously printed pages. The book looks nice, good editing and make-up, front and back full of praising words from either well-known religious people or the press, like Desmond Tutu, Steve Chalke, 'Scotland on Sunday,' Mohamed Gemeaha, The Financial Times and others. The Bruderhof seems to look for constant approval of their works from, if possible, famous or at least well-known people.

Anyhow, as my cousin had asked me to give him a critical and objective report about the book, I was quite willing to read it in all sincerity.

The book is divided into 16 chapters, with headings like Noise Pollution. Get Real, The Lost Art, Say Thank-you, Forget Yourself, Living on a Prayer and others. Each chapter starts with a wise word from well-known writers or speakers like Rabbi Simcha Bunim, C.S. Lewis, Martin Luther King, Che Guevara, Bernard Shaw, Eberhard Arnold and others.

Amazingly enough, I felt as though I had read the book before, especially when it came to the story of my parents on page 50. So I took JCA's last book Seeking Peace and yes, this new book is an English more-condensed version of the last-named book.. There are a few changes and abbreviations, but the stories of Bruderhof members are the same. Ellen, Sylvia, Sophie, John Winter' Joseph Ben-Eliezer, Emi-Margret, Trudi Hussy and others, same wording (although in the Queen's English now) same story. New are some stories from Ireland and Mexico's Bishop Samuel Ruiz Garcia. Nothing really new and outstanding

What amazes me most of all is that all of JCA's books are written from his personal experience as a Minister and Counselor for marriage, education, family and world problems. Although he might have a lot of Bruderhof experience, I feel he uses the pain and grief of members to elevate himself. I feel no love and compassion in his words, nor do I believe in his real attempt to bring a message of peace to this world.

As long as Johann Christoph Arnold does not attempt peace with those most closely connected to the Bruderhof --ĘThe Children of the Bruderhof -- as long as he splits up families and builds walls of lies between mothers and their children, brothers and sisters, as long as he is unwilling to listen to our cries for peace and reconciliation and brings division amongst his own people, we cannot take anything he writes seriously. Words have never changed the world. It is the action of love and compassion that will unite the un-united.

Therefore I must say that his book, TV and radio broadcasts across the United States, Australia, Britain, Ireland and continental Europe are without value to the world. They are empty words in a world that needs compassion and love more than anything at this very moment of a new war in Europe.

Books/Articles Currently Available:

Cast Out In The World by Miriam Arnold Holmes

Through Streets Broad and Narrow by Belinda Manley

Torches Extinguished by Bette Bohlken-Zumpe

Free from Bondage by Nadine Moonje Pleil

The Joyful Community, by Benjamin Zablocki

Each $17 postpaid U.S./Canada, $20 Overseas

KIT Annuals: 1989-1990 @ $17 $20 Overseas

1992 1993 1994 1995 each $25 / $30

All in larger type, spiral-bound with index

"Expelled Members Speak Out" by J. A. Hostetler $1/$2

"Open Letter To The Hutterian Church," by Samuel Kleinsasser, with added articles, 120 pages $5 / $8

"Our Broken Relationship With The Society of Brothers," by S. Kleinsasser, 16 pps $1/$3