P.O. Box 460141 / San Francisco, CA 94146-0141 / telephone: (415) 821-2090 / FAX (415) 282-2369 / http://www.perefound.org / e-mail: peregrin@sirius.com
KIT Staff U.S.: Charles Lamar, Editor; Vincent Lagano, Assistant Editor; David E. Ostrom, research.
EuroKIT: Linda Lord Jackson, Joy Johnson MacDonald, Carol Beels Beck, Elizabeth Bohlken-Zumpe, Benedict Cavanna
Thomas Klüver, · Reckeweg 43 · 13591 Berlin · Germany (030) 3667465
Annelene Wiegand, Mittelhöhe 48 · 74523 Schwäbisch Hall · Hessental · Germany
KIT: A note to readers who keep in touch through this newsletter as opposed to the grapevine or the Hummer:
There is some incredible news in this issue. Actually, because of a High Court gag order in Britain, most of the news we have this month we cannot print. We were going to publish a double issue. In any case, those who like their news as hot as we can print it should turn straight to page 9, while readers with patience who like their news 'cold,' that is to say as rich as possible in context, may wish to slog along from p. 1 for what surely will be a surprising ride as far as KIT newsletters go.
This has indeed been an eventful summer, and the next few months promise to be highly charged as well.
Judy Tsukroff, 9/2/00: Plans for the Connecticut Pot Luck Picnic on Sunday, September 24th from 1:00 PM through late afternoon, are going forward and we're looking forward to it. I sent fliers to those in the Northeast and a few others who are often at gatherings, but some fliers were returned because of address changes. If anyone I missed would like details about location and local lodging facilities, please let me know at (860) 542-5786. I do need to know if any folks can bring grills, since I have none available. I will be happy to supply hamburgers and hot dogs, and hopefully some chicken, but none of us have portable grills. So please let me know if you can help that way. Otherwise, I will buy cold cuts to be sure. It is also helpful if you let me know what you plan to bring.
Whatever... the main thing is for folks to come and enjoy each other's company. We missed the usual Friendly Crossways conference and are eager to catch up with what folks are doing. Love,
Joy MacDonald, 8/6/00: Rhön KIT 2000 Gathering It's been a busy week since our wonderful Rhön KIT 2000 gathering at Oberbernhards came to an end, but at last I'm able to share some memories, especially for those unable to be there. The mini-bus contingent from England added a "trooper 4 x 4" to give more space and flexibility.
We travelled together on the long journey, taking an early ferry across the Channel and then fairly easy motorway-driving all the way to Fulda. We took a little longer than anticipated, as we inadvertently took the "interesting" central route through Brussels instead of skirting along on the city ring road. Also rest stops for seventeen people take longer than for a couple in a car much longer! We had brought a picnic lunch but stopped for a hot evening meal my first Bratwurst and Sauerkraut for four years so the sun set behind pink and purple clouds long before we reached Fulda. The last 10 miles along narrow, winding, deserted roads in the dark seemed to last for ages, but eventually we arrived at the youth hostel at 10:00 P.M., friday July 21st, to be met by at least a dozen others. Another two cars, also driving in convoy, arrived even later due to mechanical problems. Next day, the official start, many more people arrived, approximately sixty in total over the four days.
This is a beautiful part of Germany and our excellent youth hostel was situated at the foot of the 835-meter Milseburg where the summit offers a panoramic view of many rolling hills with lush farmland, tiny hamlets and the medieval city of Fulda.
There were many excursions up the Milseburg both by day and by night and also many other drive and walk outings further afield. One I particularly enjoyed was to the Wasserkuppe. We parked at the top amidst swirling mists, but within five minutes the clouds had lifted and we found ourselves at the top of a rounded hill (the highest in the region). It contained satellite-tracking and early-warning devices, an airfield for small private planes and gliders, a museum and shop and a long, sloping meadow where dozens of hang gliders and radio controlled model gliders were making full use of the up-drafts and thermals.
Our walk with a couple of dozen people skirted the top and took in many interesting geological features. I especially enjoyed the abundance of wild flowers and insects and birds and being with like- minded nature lovers. I think that was one of the times a bunch of adolescents went swimming. This "doing your own thing" in large or small groups or just chatting with another was a happy feature of this weekend. Indeed we only had one "proper" meeting, though oftimes the singing, dancing group would encompass most people.
The largest "outing" was to the old Bruderhöfe. Bette's husband Hans had reconnoitered the route and talked with the owners. That afternoon the mini-bus, Trooper and at least three cars (thirty-five people I would guess) drove through the Hesse-Rhön countryside and visited first Sinnthal, then Sannerz, then the old Rhön Bruderhof and the tranquil burial ground. The knack of picking beautiful
countryside locations with good views started with the earliest hofs they must have been wonderfully inspiring places to be in those early days, so well described in Julius Rubin's book.
There's lots more to share of a great time together, but right now I must stop as my family are arriving soon for a Sunday afternoon together and evening meal of roast beef and Yorkshire pudding, etc. I'll try to write more soon starting with the most delicious Spiessbraten and Bockwurst BBQ I've ever tasted. Hope lots of others will add their memories, including maybe some of the 9 younger- generation kids who dragged us oldies to frequent sports activities!
Elizabeth Bohlken Zumpe, 8/7/00: Eurokit Gathering In The Rhön, July 21st 26th, 2000: Hans and I left Drachten on Thursday the 20th on our way to the KIT gathering in Oberbernhards. We had to take our old dog, Duc, to a dog's home first and he looked at me with sad eyes, like saying: "You are not leaving me here, are you?" We never really take him to a home, but this time it was inevitable. We then set off to Birnbach where the former Michaels-Bruderhof had been.
The place looks the same; the Rosicrucians have built a large temple in the center, but otherwise the place is unchanged. The village is once more at peace with itself and their surroundings the Bruderhof is forgotten or at least no longer a cause for discussions. The Rosicrucians live a quiet and more harmonious life within the village, keep more to themselves and cause no crises and upheavals to disunite village people or force them to take sides for or against them. We stayed with their former neighbors and had a wonderful evening.
Next morning we left for the Rhön after breakfast. Driving into Fulda we thought, we might as well look at Fulda Central Train station in case someone might be waiting there! Sure enough we saw Margot, Marlene and Lie (Arnold) Priest in a phone booth. So the five of us made the windy road to Oberberhard's youth hostel together, and had much fun and laughter. It looked like a wonderful place, high in the hills with spacious two, four and six-bed rooms, each with shower and toilet. Little by little people began to arrive and were greeted with much joy and enthusiasm. One of the good things was that all the food, even the barbeque, was organized by the youth hostel, which meant that no one was caught up in the kitchen and unable to take part in whatever was going on.
The weather was not what we were used to at KIT conferences, but on the other hand it was enough to do a lot together like walk, talk, sing and make music or have a campfire outside with fun and serious discussions. I think we had a wonderful time listening to each other and getting updated with each others present lives, joys and sorrows.
Sunday we went on a drive on a long drive to visit all the former Bruderhof sites in the Rhön area. We left Oberbernhards with two minibusses and four cars. In our car we had Annelene Wiegand, Elsbeth (or Anneliese) Bauer and Jean. Our first stop was at the former Sinntal Bruderhof near Bad Brückenau. We sang all the way in the car and it was amazing how many songs we seemed to remember. I really enjoyed myself I think we all did!
The Sinntal Bruderhof has changed a lot. When we lived there it was an open valley with beautiful fields and flowers right up to the little stream called "the Sinn," which in German means "sense, meaning, value or liking." Now it is full of newly planted trees and bushes and has something depressing about it. Hans and I met there in 1959, therefore for us it was nice to see the place again, but otherwise there is nothing emotional or special about the place.
Next, the windy and hilly village road that led to Sannerz was a lovely trip. Sannerz House even today is very impressive. It was built in 1919 by a ship's captain from Hamburg as an investment in a time of serious inflation. He did not want to live there, so my grandparents were able to rent the big house for not so much money! Every time I see it, it impresses me. The village is quite small and the house on a hill, big, stately and with a lot of space and land around it. Sadly a main road was built right between the house and the rest of the village, so it seems like cut off from the rest. I can well imagine lots of young and joyful young people meeting there in the 1920 to try and find answers for the world's needs and troubles!
From there, on to where the old Rhön Bruderhof had been... Driving through woods and forests, through hills covered with wild flowers, we reached what is called "the Sparhof" today. Nothing of the big houses remained, just the stones from the torn down "Kinderhouse" and the workplaces, like pigsties and rooms where single people once lived. I did take photos of the old remains. Mrs. Peters (the mother of the owner) talked with us and told us that Bruderhof people still like to visit the place. The burial ground is very peaceful between the high fir trees the Bruderhof planted 70 years ago. In 1935, brotherhood members carried stray stones from the fields and hills around them to the burial ground as a kind of repentance after E.A's. death, and made a big wall around the place. When the Gestapo expropriated the Rhön Bruderhof in 1937, one of Eberhard Arnold's sisters I think Hanna bought the burial ground and had nameplates put on the stones so that the graves would not disappear. After the war, she returned the grounds to the Bruderhof. So the burial ground is Bruderhof property.
At that time there were four graves: Else von Hollander, 1931; Eberhard Arnold, 1935; and two children, Tabea Zimmermann and Daniel Kaiser. Since then, the two Löber boys, Gregor and Johann Georg, were buried there as well as Peter Rutherford who died on the Michaelshof in 1991. It certainly is a serene, impressive place.
Monday was spent in little groups talking, singing, hiking and making music. In the evening we had a big bonfire and had so much fun singing that by Tuesday morning I had lost my voice completely. After breakfast on Tuesday, Hans and I left in the pouring rain on our way to Zürich where we had tea with both David and Migg, and then went up to the old Alm Bruderhof together with Migg for a few days
Wednesday a group of seven from Oberbernhards arrived as well and it was a joy to meet them all, especially Renatus with Mel, Janet and their children, Renata and Daniel. We had a truly wonderful time, taking the lift up to Malbun some 2,000 meters high and enjoying the sights, each other's company, and trying to understand why the commitment to the Bruderhof life has changed so much throughout the last decades from faith in a living and leading God to hero-worship and man-made rules and regulations. Where joy once filled the lives of people, it is now fear that makes them stop listening to the voice of their hearts! It is difficult to understand, but it surely is a letting-go of the leading hand of God and trusting the ideas of a leader, a guru.
Sunday the 30th of July we took Migg back to Zürich and spent a few more days back in Silum, the
old Alm Bruderhof. It was good to see Migg again and talk about the times when he joined the Bruder-hof in the early 1930s. Hans and I always enjoy Liechtenstein and spend wonderful hours in this beautiful little country. Thursday the 3rd of August we went home again and our dog was truly happy to return to his own home.
All in all, the Rhön Conference was special. It was special to meet as children and grandchildren of the people that started the community life, and to realize that our upbringing did give us a firm foundation to build our lives on. As different as we are, we do have so many things in common that our get-togethers are more than just friendship! We certainly look back on a very special summer conference. Much love, Elizabeth (also known as 'Bette,' which I do not really like).
Annelene Wiegand, 8/7/00: Please note my new address: Mittelhöhe 48 · 74523 Schwäbisch Hall · Hessental · Germany.
Ben Cavanna asked me to write something for the KITletter, but as my English has suffered during the last 40 years in Germany, I must ask you to translate this for me.
Now at long last I have finally managed to attend a KIT conference! In my heart, wounds are healing and I like to remember the good and beautiful things I experienced during my life. It was pure joy to meet so many old friends and realize that we have a deep understanding for each others' needs. Isn't it wonderful that we can be so happy together and share, sing and talk? Everyone is going his/her own way, and even if we are unable to change our old self completely, there is this mysterious "something" that makes us feel close when we meet and see each other! Even though years have passed, it's an understanding, call it "solidarity" if you want, that ties us together, which is much deeper than I can explain.
Actually I was a little afraid of hearing negative talk and thoughts; these old wounds should have healed a long time ago. Now I realize that this is hardly possible if you are confronted again and again with the fact that you hear nothing of your families and are even excluded from taking part in your parents' funerals long before they have actually died! No one is perfect, but these things should change.
For my father, it was the right thing to return to the Bruderhof when he did; it was his wish. He was happy there and well looked-after. Personally, I am thankful I was able to care for my mother myself she was so very thankful for everything I was able to do for her. In December it will be six years since her death and since I have been living on my own. In April I moved to this new address, so I hope it can be noted in the KIT letter.
I have a lot to be thankful for. Since I have been here, everyone has seemed to want to help me. I found a good job and made a lot of friends; I sing in a choir and joined a gymnastics club. We just have to try and find new connections to make our lives worthwhile.
It was a tremendous joy to meet so many friends after all these years! It was a wonderful experience for me, and I want to thank everyone who made this meeting possible! I was twenty-one years old, when my family was sent away from Sinntal Bruderhof and now I am sixty it has been a long road! I feel it is very important to help those who leave now and suddenly have to stand on their own two feet; it can be so difficult!
Our family was actually helped by a very kind farm family when we were sent away, but the wounds were deep, and the times very hard and difficult for all of us! Luckily my father found some addresses and contacted many former members. Your father was so happy and thankful when we contacted him. As a twenty-one-year-old at that time, I had a lot to learn and digest, but I think that now I am able to say that I have found my feet and feel responsible for my own actions. Greetings,
Christrose (Rosie) Sumner Johnson, 7/30/00: Keeping In Touch Europe, 2000 was such fun! It was a light-hearted, fun-packed, energizing gathering. I drove from Amsterdam with my two brothers, Tim and Barnabas Johnson and my sister Susan, after we had met to celebrate the 50th birthday of Barnabas's wife, Lowry, the night before. It was an exhausting speed along Dutch and German motor ways, and the Friday afternoon and evening traffic was mad, but we left that behind at sunset, turning off at Fulda and taking a little, undesired detour that gave introduction to the lovely medieval city before
we escaped into the countryside as the glowing skies died to dusk. Oberbernhards Youth Hostel was in darkness, but as we arrived there were Isolde Brummelohe and Gudrun Harries to meet us and, rather overwhelmingly, we entered a bright common room to the full harmony of Einen Goldnen Wander-stab (help with spelling, please, someone) and other familiar faces came towards us in greeting.
Wow! Tears welled, tiredness and emotion caught off guard. I think that is the first time that I have been welcomed with such honour, but then the folk gathered probably thought that the 'English' bus had arrived at last! It hadn't, but did so a few minutes later, unloading a tired and relieved number of families and friends, among them the trusty drivers John Holland, Dieter Holtz, Matt Ellison and Ben Cavanna, without whom many couldn't have made the journey.
That first evening, late as it was, a couple of new anecdotes from Christine Mathis and Margot Purcell, relating to the early-courting shenanigans of one Christoph Arnold and the effect a ponytail can have on men-at-large, both appalled and sent a tired group into more laughter than I think I have had in months. I am glad the laughter set in. Taken seriously, the witness they bore shames the community and their 'leader' and are reason enough for them to fear KIT. Oh, yes, some remember, and those that remember reminisce, and the pieces fall into place, drip - drip - drip, to show up the double standards that prevailed.
Next morning, still not yet official 'KIT Conference' time, we had a relatively brief meeting to co-ordinate what people wanted to do. It teetered on the serious side, but before long a large group headed mapless out into the countryside. We were fairly high up, so cautiously stuck to any road or path that continued upwards. To our delight, we found our way up the Milseburg (835m), complete with 'pub' (beer, but no electricity) and, after a bit of rock- scrambling, brought ourselves beneath three Catholic crosses at the summit. Nothing daunted, we shared our picnic (generously bequeathed from the bus provisions of the previous day) supplemented by water and beer. There was a shrine and a little meeting green, complete with stone pulpit, from which Marlene Gelman delivered the first sermon to her spellbound congregation after the beer! The views were pretty poor, so the Milseburg was to attract us over and again, until we had the complete and brilliant panorama.
The first evening, following supper, we all sat in a circle and introduced ourselves, one by one. I was thrilled to find, even as we sat round, that I knew almost everyone. Only my brothers and sisters and the Wegner sisters hailed from my own Bruderhof memories, and Margot Purcell's presence was a particular delight to me as she was in Forest River and Oak Lake as a virtual contemporary, but others I don't personally remember knew me as a sub-five year old, before my family left Wheathill. However, nearly all are now friends of quite long standing dating to the earliest KIT gatherings, sharing a common background, and keeping in touch for mutual support and friendship. What could be better? I was flattered to be asked to facilitate the gathering and hope I didn't tread on any corns it seemed to be quite a lively and productive session. Anyway, we managed to decide what we would do the next day! Then we dissolved the 'meeting' but, led by the vibrant voice of Ludwig Fischer and the accordion of his wife, Irene, we harmonized and canoned our way through the songs we knew and that many love. There were several tables off-centre of the big common room and these formed our 'hearth,' with people sitting round it to talk, read, write, look at photos, sing, etc., but also groups sitting off to one side to talk, sing, and even jig about a bit. Believe it or not, these middle-aged to elderly 'kids' even spontaneously and competitively played musical chairs, to the excellent piano of Marcella Mathis, one of our younger delegates. Most of the youngsters played piano, when they could wrest it from brother Barnabas, whose impassioned playing of both that instrument and his beloved recorders, continue to enhance all such gatherings and even draws in 'outsiders.'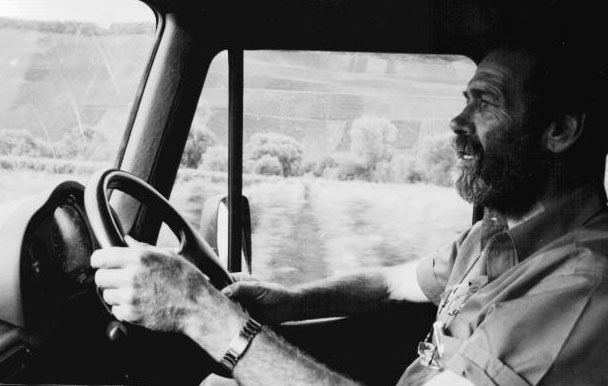 The 'English' bus and one or two other pretty roomy vehicles enabled a manageable convoy to set off after lunch to explore our roots. I couldn't myself whip up much nostalgia over the Sintall or Sannerz and didn't feel any spirit move me, but at the Rhön it was a bit different. Tall trees were a legacy of the founders, the visitors' book told of mothers, fathers, sisters and brothers of those present, who had trodden this path a few years before. The graveyard was just plain lovely. Stunningly lovely. Eberhard's grave was not ostentatious, although his headstone was the largest. All were simple, rustic and beautiful, set in a summer meadow of wild flowers, bees and butterflies. A place you'd find rest and peace, if, dead and buried, you were nevertheless there to be aware of it. I wonder if the Bruderhof might like one day to give Bulstrode graveyard over to become a wildflower meadow, rather than the rather formal mowed lawn that the moles rampage in and rabbits dig up? Still, that is also lovely in its own way and in the Spring the ground at the entrance is carpeted with snowdrops. I wonder what the Rhön graveyard looks like in other seasons.
As once before, finding the route from Fulda to the Youth Hostel proved tricky, but everyone kept their tempers and spirits only slightly flagged, to be uplifted by the kind act of Isolde and Gudrun in securing the evening meal for the latecomers. A final meeting was scheduled after that, to discuss KIT, its direction, administration, newsletter etc. but this did not excite many participants and seemed to go round in its usual circles so, while many stayed in the common room to chat and sing, I slipped out of the little meeting to join a small group down the pub! Another lovely evening, but it wasn't over yet. For the second night, Ben Cavanna with his telescope and my brother Tim led the search for the comet and this time it was found. Just a blur, but unmistakable. For me this was a real treat. We had driven up the hill onto a dark field, where the stars sparkled brightly. Around midnight, the moon rose, a reddish half-moon, on which were to be seen the pitted craters. Andromeda was viewed and Viga, all first timers for me and, I suspect, others of the half dozen or so who braved the cooling night temperature.
The next day it rained. Nothing had been planned and there were no 'meetings' but word got round that Ben Cavanna was taking some of the younger members of our party exploring in the morning; in the afternoon they went swimming with Janet Fros, who borrowed Anthony Lord's car generous!
Ludwig Fischer supervises the cheating as Jean, Isolde and Irene play musical chairs - Ben Cavanna